Two billion dollar judgment against Bayer/Monsanto in glyphosate cancer trial was "devastating rebuke" to company's science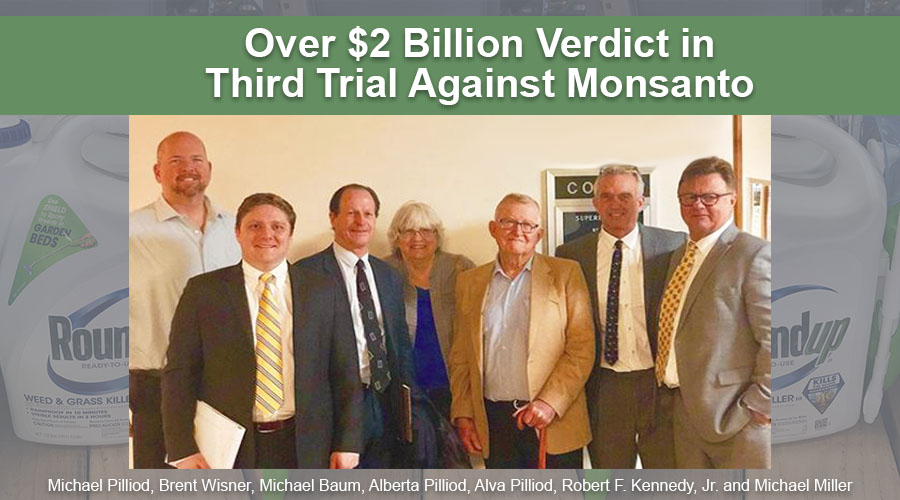 By Ken Roseboro
Published: May 26, 2019
Category: The Organic & Non-GMO Report Newsletter
For the third time in less than a year, a California jury has delivered a stinging blow to Bayer-Monsanto, finding that the company's Roundup weedkiller caused cancer in a California couple and awarding them a staggering $2.055 billion in damages.
In May, a jury in Alameda County Superior Court found that glyphosate, the main ingredient in Roundup, was the cause of non-Hodgkin lymphoma (NHL) in both Alva and Alberta Pilliod of Livermore, California who have used the herbicide since the 1970s. Alva Pilliod was awarded $18 million in compensatory and $1 billion in punitive damages, and Alberta Pilliod was awarded $37 million in compensatory and $1 billion in punitive damages.
"Monsanto never had any interest in finding out whether Roundup is safe"
Charles Benbrook, visiting professor at University of Newcastle and an expert witness for the plaintiffs, called the ruling a "devastating rebuke" of the case presented by the Bayer attorneys.
"There is no way that the jury could have expressed more clearly the complete rejection of counter points and science presented by Bayer-Monsanto attorneys," he said.
Benbrook said the plaintiffs' attorneys were able to present much more evidence of Monsanto's corporate malfeasance, manipulation of science, heavy-handed tactics with the Environmental Protection Agency, and failure to warn users about Roundup's toxicity than in past trials.
"The fact that plaintiffs were able to present much more of the really incriminating evidence on the science side in relation to Monsanto's behavior really turned the jury against Monsanto and led to this mammoth decision," Benbrook said.
Plaintiffs' attorney R. Brent Wisner agreed. "The jury saw for themselves internal company documents demonstrating that, from day one, Monsanto has never had any interest in finding out whether Roundup is safe. Instead of investing in sound science, they invested millions in attacking science that threatened their business agenda."
According to Benbrook, another deciding factor in the trial was the fact that Europe sells a safer Roundup formula that doesn't contain a toxic ingredient called polyethoxylated tallow amine (POEA), which is banned there. Meanwhile, Monsanto continues to sell Roundup formulas with POEA in the United States. The Pilliods' expert toxicologist Dr. William Sawyer said that POEA makes the Roundup formula 50 times more toxic.
"If Monsanto realized that they could reduce the risk with safer ingredients in the EU, then why didn't they use them in the U.S.?" Benbrook asked.
Third ruling against Bayer-Monsanto
This is the third trial since August 2018 in which a jury found that glyphosate either caused or contributed to a plaintiff's cancer. In March, a jury in federal court in San Francisco ordered Monsanto to pay $80 million in damages to Edwin Hardeman, who used Roundup extensively. Last August, a jury in a state court in San Francisco ordered Monsanto to pay $289 million to groundskeeper Dewayne Johnson. The award to Johnson was later reduced to $78 million, and Bayer is appealing the verdict. Both Hardeman and Johnson are also suffering from NHL. More than 13,000 similar lawsuits have been filed against the company. The next trials will be held in the fall in St. Louis, home of Bayer's Crop Science division, which was formerly Monsanto.
Benbrook and other experts say that the $2 billion award to the Pilliods will likely be reduced on appeal as most large damage awards like this are. But he also predicts that juries in future Roundup cancer trials will "hammer" Bayer-Monsanto as they did in the first three trials.
"These high exposures to Roundup were preventable, and if product labels had commonsense worker exposure reduction measures that the EPA called for in 1986, most of these high level exposures wouldn't have been as bad as they turned out and some significant portion of the people who suffered NHL wouldn't have gotten the disease."
Bayer has seen its stock price plummet 40 percent since it purchased Monsanto last year for $63 billion. At its recent annual meeting, a shareholder revolt ensued, with more than half of the shareholders voting against absolving management for its decision to acquire the St. Louis-based seed and pesticide company.
Bayer says it will appeal the most recent decision as it is now appealing the Johnson ruling but Benbrook predicts they will have a difficult time winning an appeal.
"The odds of them being successful at subsequent appellate court levels always go down. It's hard to imagine on what basis an appeal can be successful."
Going forward, Benbrook says Bayer-Monsanto must change Roundup's label and stewardship to educate everyone from homeowners and landscapers to pesticide applicators and large-scale farmers on how to use the products safely and avoid high exposures to the weedkiller.
"If Bayer-Monsanto doesn't take action to address those issues, they are sealing their own fate," he says.
Kristin Schafer, executive director,Pesticide Action Network, says the Pilliod decision is "another landmark moment that signals a turning tide" against glyphosate and other pesticides.
"The ruling is the third consecutive time a jury has found that Bayer must pay for the harms of its glyphosate products. Public opinion is clearly shifting, and our courts are beginning to follow the science. It's time to get carcinogenic pesticides off the market, and support farmers as they transition to agroecological approaches."
Additional sources: Pesticide Action Network, GM Watch, Hygeia Analytics
To view original articles, visit:
http://www.panna.org/press-statement/third-consecutive-ruling-against-bayer-jury-awards-2bn-cancer-trial
https://www.gmwatch.org/en/news/latest-news/18940-monsanto-hit-with-2-billion-damages-verdict-in-third-roundup-trial
https://hygeia-analytics.com/2019/05/13/has-bayers-day-of-roundup-reckoning-arrived/
https://hygeia-analytics.com/2019/05/13/has-bayers-day-of-roundup-reckoning-arrived/