About Us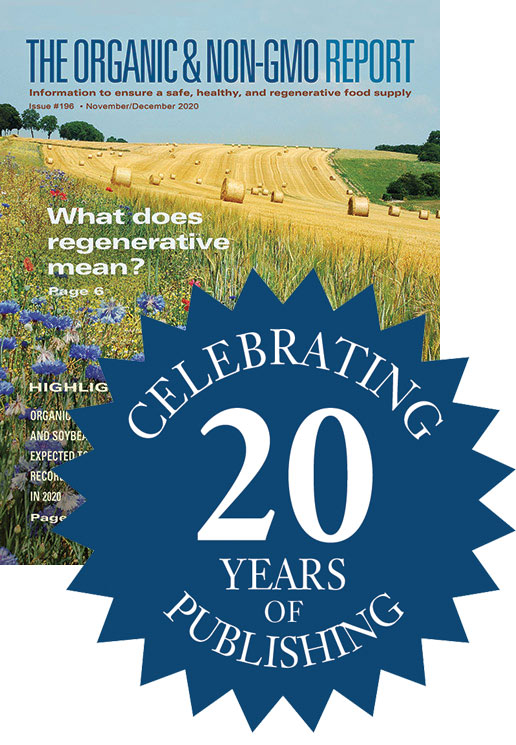 More than twenty years ago, Ken Roseboro had an idea for a publication that focused on the market for non-GMO grains and foods. As a journalist writing about food and agriculture, Ken saw that a market for foods and ingredients that weren't genetically modified was starting to emerge. Though at the time, "non-GMO" was an obscure term that was mainly used in the grain industry. But Ken had the foresight to see a strong consumer-driven market emerging. In 2001, he launched The Non-GMO Source, an 8-page newsletter focusing on the non-GMO market.
Industry reaction to The Non-GMO Source was positive, and over the years the publication grew from 8 to 40 pages. The title changed from The Non-GMO Source to The Organic & Non-GMO Report. The one-color newsletter became a full-color magazine.
The Organic & Non-GMO Report has played a major role in supporting the growth of the non-GMO market to $30 billion in annual sales. Non-GMO Project Verified is now the second most recognized food certification, found on some 60,000 products including mainstream brands such as Dannon yogurt, Triscuit crackers. Frito Lay snacks, and others.
A companion publication, The Organic & Non-GMO Sourcebook is the world's only directory of suppliers of non-GMO and organic seeds, grains, food ingredients, animal feed, and food products.
Over the past 20 years, The Organic & Non-GMO Report has built a reputation for its excellent journalism and leading-edge reporting about trends and leaders in the non-GMO and organic markets. As one of our subscribers told us "There is nothing else out there like it!"