Highlights from this month's issue: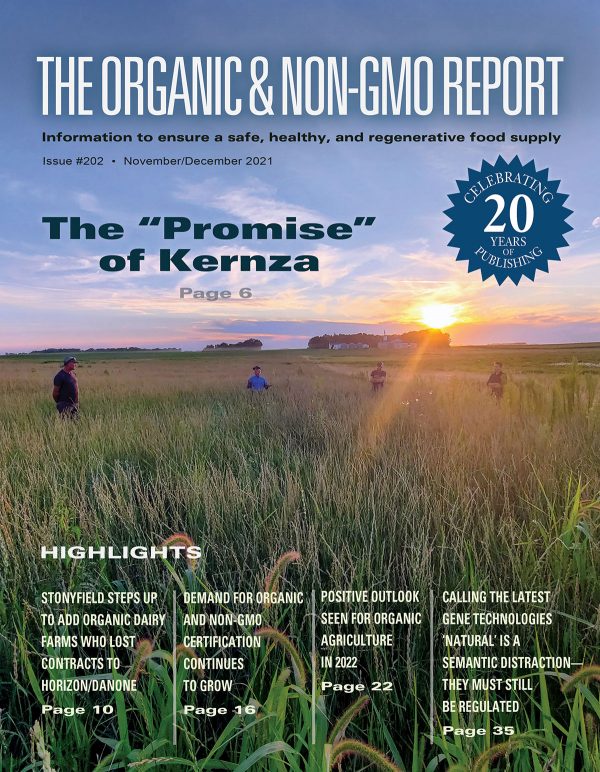 Celebrating our 20th year in publishing!
Organic and conventional farmers see the promise of perennial grain, form co-op to scale it
Perennial Promise Growers Cooperative formed to increase production of Kernza® as a way to build soil health, preserve water sources, mitigate climate change, and revive rural communities
Demand for organic and non-GMO certification continues to grow
More farmers seek organic certification as organic acres increase; Non-GMO certification sees steady growth and more inquiries as confusion surrounds new GMO labeling law
Positive outlook seen for organic agriculture in 2022
The continued growth of total organic operations and harvested acres in 2021—along with quality yields for many crops— is expected to lead to one of the largest U.S. organic harvests on record. This bodes well for the organic industry both in 2021 and going forward.
Mexico's highest court rejects appeal of GM corn ban
Bayer/Monsanto suffered another in a long string of setbacks in its battle to grow genetically modified corn in Mexico when the country's highest court recently refused to overturn a precautionary injunction restricting the cultivation of GM corn.
Calling the latest gene technologies 'natural' is a semantic distraction—they must still be regulated
The risks from gene editing don't disappear by calling it natural. The risk of harm from gene technology accumulates over time and scale of production. In new research, the authors propose a framework that regulates technologies depending on their scale of use.
Get The Organic & Non-GMO Report
---
---