Highlights from this month's issue: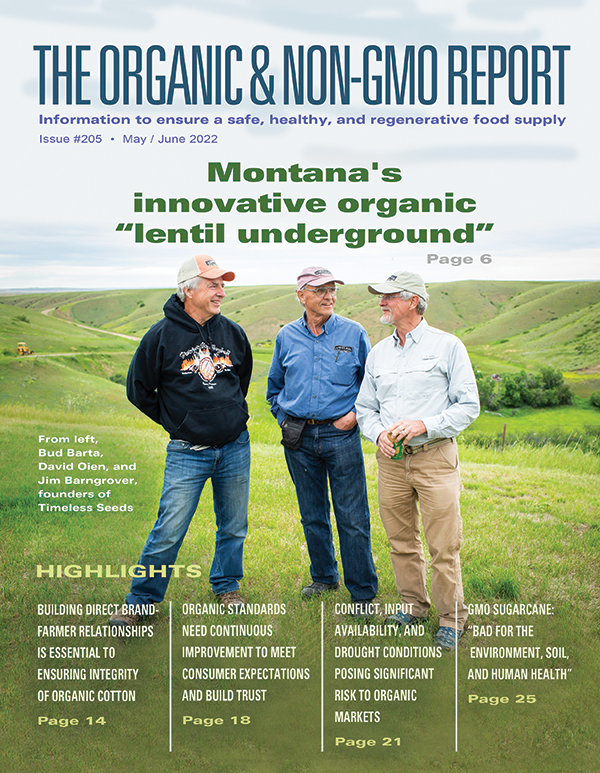 Montana lentil farmers go against the grain to build thriving organic business
Timeless Natural Food's "lentil underground" continues to grow, producing nutrient-dense specialty crops while regenerating Montana's soils and rural communities.
Building direct brand-farmer relationships is essential to ensuring integrity and transparency of organic cotton
Gallant International sources regenerative organic cotton directly from organic farmers in India.
Organic standards need continuous improvement to meet consumer expectations and build trust
With growing concerns about—and several confirmed incidents of—fraud in the organic industry, building consumer trust in organics is crucial.
Conflict, input availability, and drought conditions posing significant risk to organic markets
Markets have turned decidedly bullish for all three major organic crops—corn, soybeans, and wheat—since September 2021 as supply outlooks have become increasingly uncertain due to the Russian war on Ukraine.
GMO sugarcane: "Bad for the environment, soil, and human health"
Brazil ramps up production of GMO sugarcane despite success of regenerative agriculture methods; Non-GMO Project Verified sugar options are available.
Get The Organic & Non-GMO Report
---
---