Highlights from this month's issue: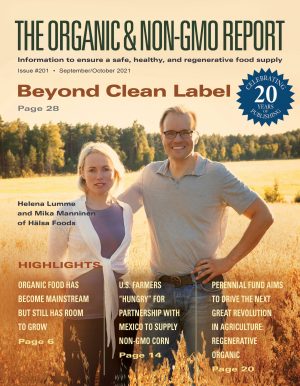 Celebrating our 20th year in publishing!
U.S. farmers "hungry" for partnership with Mexico to supply non-GMO corn
If Mexico needs non-GMO corn to supplement domestic production, Midwest grain suppliers and farmers say they can meet their needs.
Perennial Fund aims to drive the next great revolution in agriculture: regenerative organic
Fund is financing built for organic farmers and farmers making the transition. It replaces traditional capital with operating loans and lines of credit that enable the transition to regenerative organic agriculture.
New organization aims to be "connector" to scale regenerative agriculture
Great Plains Regeneration to focus on helping region's farmers build soil health, develop markets for regenerative agriculture products, revive rural communities
Synthetic biology products entering the market unregulated, unlabeled—and even with non-GMO claims
So-called "GMO 2.0" techniques are being used to create agricultural crops and inputs, food products and ingredients, personal care products, and supplements. They carry similar risks that the older GMO techniques do.
Hälsa oatmilk yogurt: taking clean label to another level
Hälsa turns organic whole grain oats into a fiber- and nutrient-rich, pre- and probiotic-filled product, without using a single food chemical or additive either in the final product or the process itself.
Get The Organic & Non-GMO Report
---
---