Certification experts try to find common ground on ways to regenerate agriculture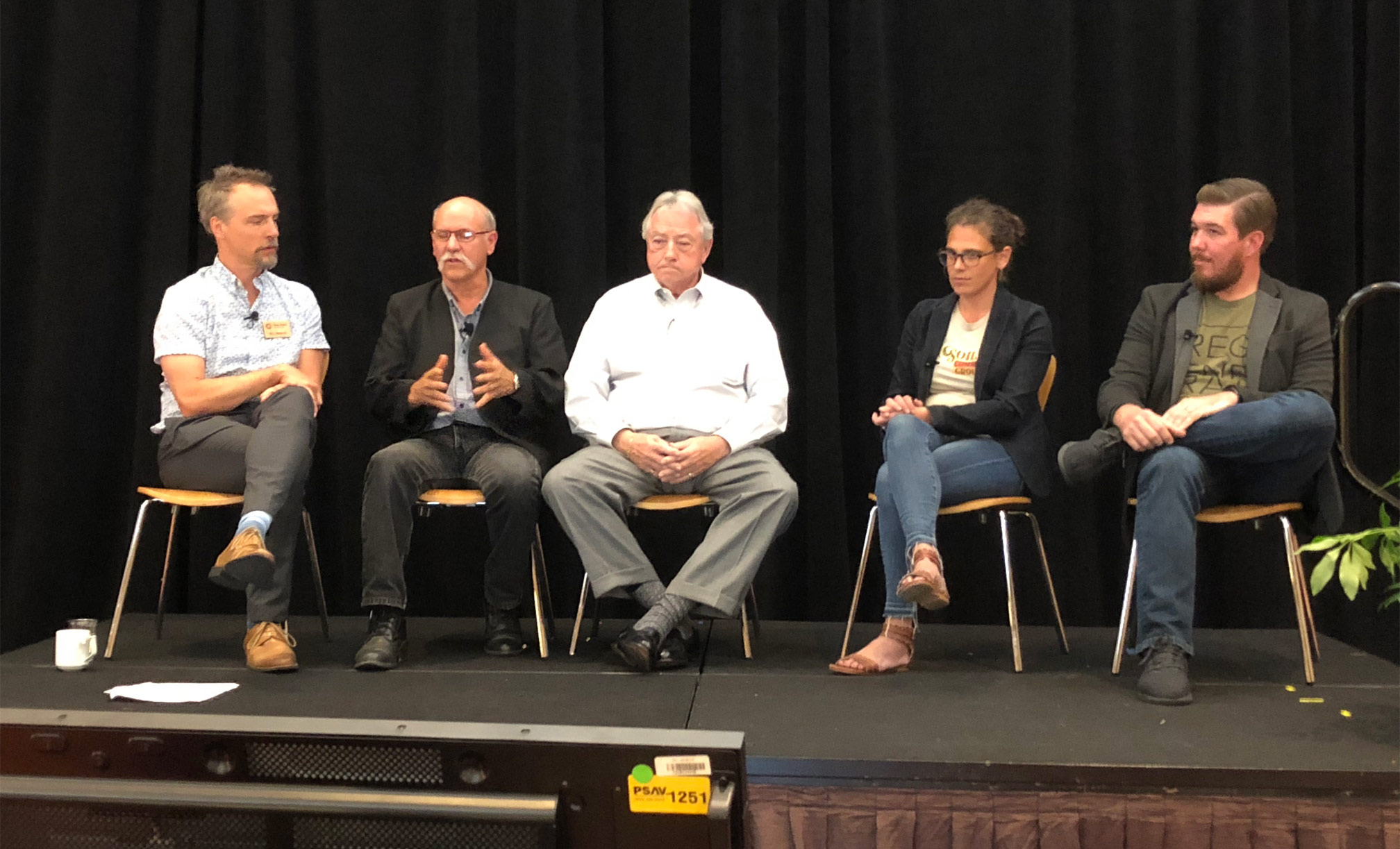 By Ken Roseboro
Published: October 4, 2018
Category: Regenerative Agriculture, The Organic & Non-GMO Report Newsletter
Advocates of different certification programs may disagree on the best way to regenerate agriculture but they agree on the goal of soil health as a key to mitigating climate change. That was a key takeaway of "A Regenerative Forum" held at Natural Products Expo East in September.
A panel of certification experts discussed their different approaches. Tom Harding, founder of Lehigh Valley Growers, emphasized the importance of the National Organic Program (NOP) as an established standard that consumers know and trust.
"Eighty-three percent of consumers recognize the USDA seal," he said.
Harding said the NOP needs to be strengthened and protected. "We need to keep raising the standard and continue to fight for and protect it. The government needs to know why organic is important."
Jeff Moyer, executive director of the Rodale Institute, discussed the Regenerative Organic Certification (ROC) developed by Rodale, Patagonia, and Dr. Bronner's. He said the ROC aims to strengthen the organic standard by adding requirements for soil health, animal welfare, and social justice that are lacking in the NOP.
According to Moyer, the ROC aims to set a "high bar," with continuous improvement. "Shouldn't we aspire to be better?" he asked.
Moyer compared different certifications to merit badges that Boy Scouts earn and said the ROC was like the "Eagle Scout" level. "Once you become an Eagle Scout that is one badge, which shows you've gotten all the other badges."
Chris Kerston, director of public outreach & events at The Savory Institute, discussed his group's Land-to-Market program for regenerative sourcing. Land-to-Market is an ecological verification program focusing on soil health, biodiversity, and ecosystem services. "Livestock and land health are our strengths," he said.
Sara Newmark, vice president of social impact at supplement manufacturer MegaFood, described the Soil Carbon Initiative, which was launched by the Carbon Underground and Green America. Newmark said her group initially agreed that another certification standard wasn't needed, but that changed.
"Different stakeholders really identified a gap for an outcomes based initiative for soil health. We decided to move forward with an outcomes based standard for mitigating climate change and drawing down carbon," she said.
Her group felt a sense of urgency to address climate change. "We have to act now. Agriculture is a solution to the climate crisis, and we need to motivate farmers to move the needle to soil health."
All the speakers emphasized the need to work together and understand that their goals are the same.
"This is an opportunity for all of us to work together," Newmark said.
Moyer used an analogy to describe how the certification approaches have the same goal but differ on the methods.
"We've all gotten into the car and decided to go to the beach. We just haven't decided how to get there."
Kerston agreed. "We have the same vision as the other groups here. It's about how they find the way."
Harding also emphasized the importance of working together. "If we divide ourselves, we are making a big mistake."
Moyer said the different certification programs can literally find common ground on soil health. "It's all about the soil; it starts with the soil and ends with the soil."