The Vermont Non-GMO Cookbook highlights farmers, producers, and food democracy
By vast
Published: April 3, 2018
Category: Non-GMO News, The Organic & Non-GMO Report Newsletter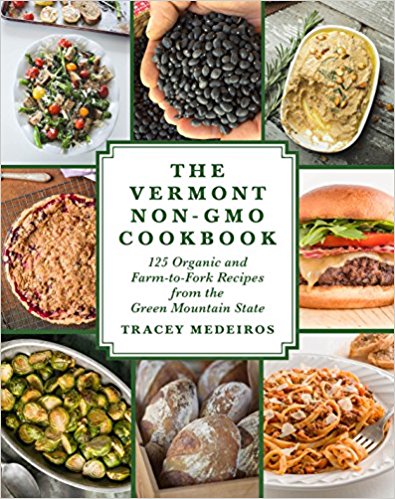 Tracey Medeiros has followed up two books on Vermont cooking with a third, focusing on sustainable agriculture and the public's role in setting food policy.
The Vermont Non-GMO Cookbook contains 125 organic recipes, emphasizing local products including maple syrup, cheese, and distillery offerings. Medeiros includes a complete list of organic farmers and non-GMO producers, after a year spent interviewing many of them.
From Essex Junction, and a columnist for Green Mountain Magazine, Medeiros is donating part of the book's proceeds to Rural Vermont, a non-profit supporting public participation in policies including organic and GMO labeling.
Vermont's reputation for "farm to fork" and sustainable agriculture is illustrated through the growers, producers, restaurants, bakeries and inns featured in the book. For those who can't afford organic food, or lack access to non-GMO and organic options, she recommends starting an organic garden, freezing and pickling the surplus, joining a community garden, and shopping sales.
For more information about The Vermont Non-GMO Cookbook, visit
http://skyhorsepublishing.com/titles/13185-9781510722729-vermont-non-gmo-cookbook.
Source: SouthCoast Today