U.S. organic sales break through $50 billion mark in 2018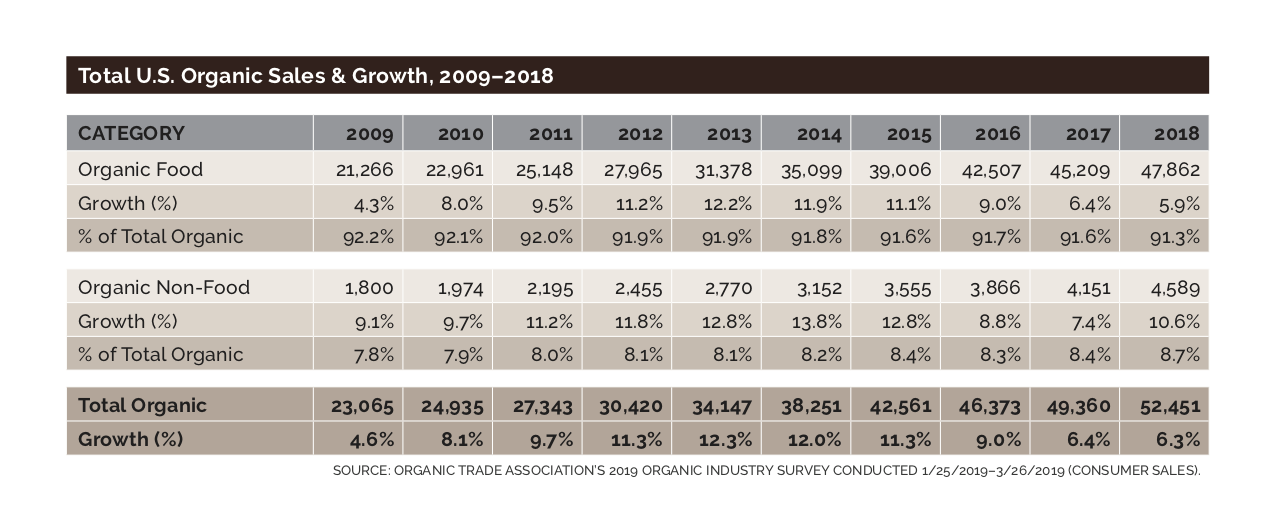 Sales hit a record $52.5 billion as organic becomes mainstream, says Organic Trade Association survey
By vast
Published: May 27, 2019
Category: Organic News, The Organic & Non-GMO Report Newsletter
The U.S. organic market in 2018 broke through the $50 billion mark for the first time, with sales hitting a record $52.5 billion, up 6.3 percent from the previous year, according to the 2019 Organic Industry Survey recently released by the Organic Trade Association.
New records were made in both the organic food market and the organic non-food market. Organic food sales reached $47.9 billion, for an increase of 5.9 percent. Sales of organic non-food products jumped by 10.6 percent to $4.6 billion. The growth rate for organic continued to easily outpace the general market: in 2018, total food sales in the U.S. edged up just 2.3 percent while total non-food sales rose 3.7 percent.
However, the growth rate for the U.S. organic market has slowed the past three years. In 2017, organic sales grew by 6.4 percent over the previous year, and in 2016, the growth rate was 8.4 percent. These are well below the double-digit growth rates of the five previous years.
Millennials are pushing for transparency and integrity in the food supply chain, and they are savvy to misleading marketing. The USDA Organic seal is gaining new appeal as consumers realize that organic is a certification that is not only monitored and supported by official standards, but is the only seal that encompasses the spectrum of non-GMO, no toxic pesticides or chemicals, dyes or preservatives.
Almost 6 percent (5.7 percent) of the food sold in this country is now organic. Today's consumers can find organic products—food and non-food items—in every aisle of their grocery stores. They can choose organic in their favorite big box store, their club warehouse store, even in their neighborhood convenience store, and increasingly on the internet. Organic is no longer a niche market.
Still the stalwart of the organic industry, sales of organic fruits and vegetables rose to $17.4 billion in 2018 for a 5.6 percent rate of growth, on par with the growth attained in 2017. By comparison, the overall fruits and vegetables category, including both organic and conventional products, grew by just 1.7 percent in 2018.
Fruits and vegetables now account for 36.3 percent of all organic food sales. Organic fruits and vegetable make up close to 15 percent (14.6 percent) of all the produce sold in the U.S., and have nearly doubled their market share in the last ten years.
The second-largest organic category, dairy and egg sales were $6.5 billion in 2018, up 0.8 percent from 2017.
In 2018, the organic non-food category reached $4.6 billion in sales with a growth rate of 10.6 percent.
The strongest growth came from fiber, the largest of the non-food categories, which accounts for 40 percent of the organic non-food market. In 2018, fiber recorded $1.8 billion in sales, up from $1.6 billion in 2017.
Source: Organic Trade Association
To view original article, visit: https://ota.com/news/press-releases/20699