The sobering details behind the latest seed monopoly chart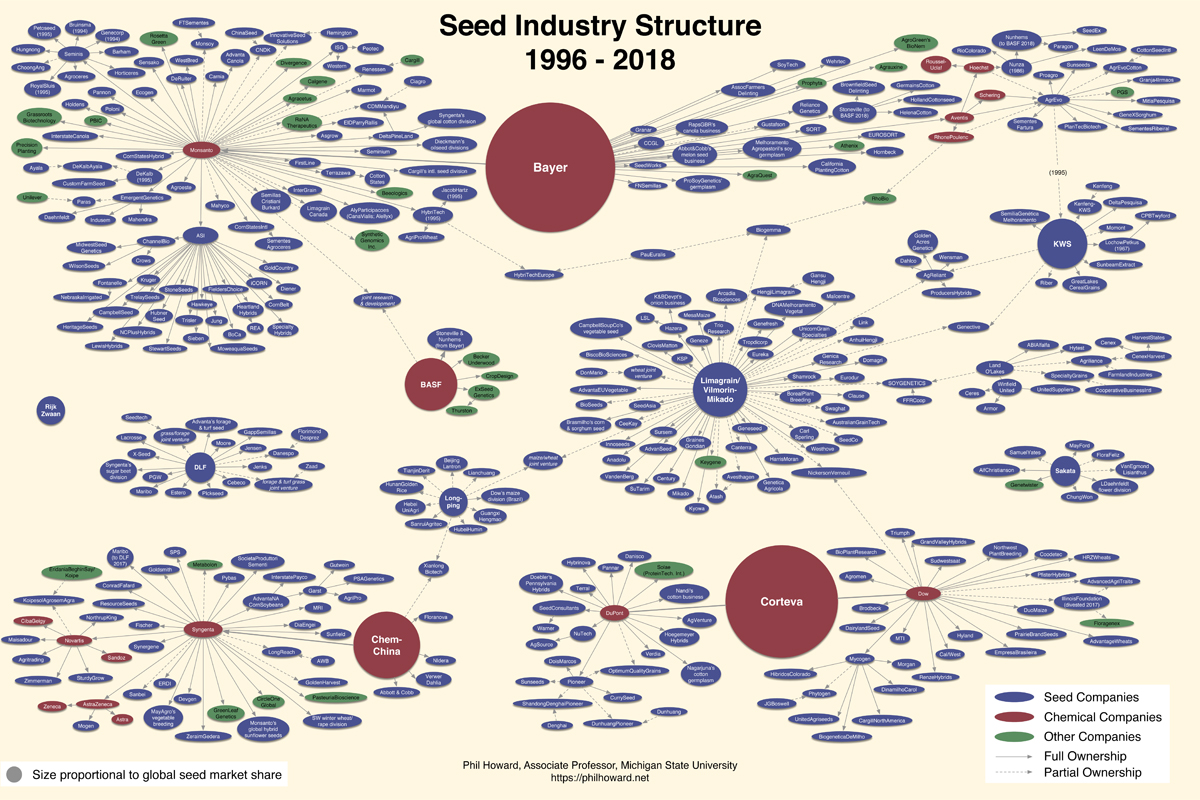 As four seed companies now control more than 60 percent of the global market, a seed policy expert argues that consolidation poses major risks to our food supply.
By vast
Published: January 28, 2019
Category: The Organic & Non-GMO Report Newsletter
When Philip Howard of Michigan State University published the first iteration of his now well-known seed industry consolidation chart in 2008, it starkly illustrated the extent of acquisitions and mergers of the previous decade: Six corporations dominated the majority of the brand-name seed market, and they were starting to enter into new alliances with competitors that threatened to further weaken competition.
Howard's newly updated seed chart is similar but even starker. It shows how weak antitrust law enforcement and oversight by the U.S. Department of Justice (DOJ) has allowed a handful of firms to amass enormous market, economic, and political power over our global seed supply. The newest findings show that the Big 6 (Monsanto, DuPont, Syngenta, Dow, Bayer, and BASF) have consolidated into a Big 4 dominated by Bayer and Corteva (a new firm created as a result of the Dow–DuPont merger), and rounded out with ChemChina and BASF. These four firms control more than 60 percent of global proprietary seed sales.
"For farmers, the options continue to be reduced," says Howard. "Although Bayer sold a number of seed divisions to BASF to pave the way for its acquisition of Monsanto, the share of the market controlled by the largest firms has only increased." What's more, he added that although those firms made promises of job growth and greater innovation if the merger was approved, Bayer last month announced it would cut 12,000 jobs, or about 10 percent of its global workforce.
Source: Civil Eats
To view full article, visit:
https://civileats.com/2019/01/11/the-sobering-details-behind-the-latest-seed-monopoly-chart/