The New Primal achieves Non-GMO Project verification for marinades and cooking sauces
By vast
Published: April 4, 2018
Category: Non-GMO News, The Organic & Non-GMO Report Newsletter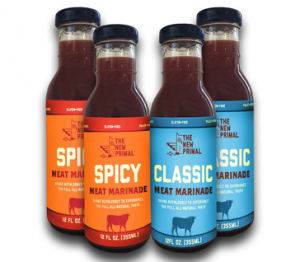 Fueled by a commitment to offer high-integrity foods to the masses, The New Primal recently announced Non-GMO Project verification for their entire line of The New Primal Marinades and Cooking Sauces.
Well-known for producing grass-fed beef jerky snacks in the salty snack category, The New Primal is changing the marinade aisle in response to the lack of variety previously available. All three of The New Primal Marinades and Cooking Sauces are Whole30 Approved, Paleo Certified, Gluten-Free Certified, and now, Non-GMO Project Verified.
"As a brand committed to full transparency when it comes to our products' ingredients, we are thrilled to partner with Non-GMO Project as the organization that embodies these core values," says The New Primal founder Jason Burke. "Achieving Non-GMO Project Verification for our marinades is a major milestone in our mission to educate and inspire consumers to choose their food wisely, and to ultimately work alongside powerful allies, such as Non-GMO Project, who can help us ensure our customers know exactly what is in their food."
Now that The New Primal Marinades and Cooking Sauces are Non-GMO Project Verified, customers can be confident that these products are made in compliance with the Non-GMO Project Standard, which includes ongoing testing of all major high-risk ingredients.
Crafted with a short list of Non-GMO Verified and Whole30 Approved ingredients, the marinades and sauces in The New Primal portfolio contain no refined sugars, soy, dairy, or oil, and feature a powerhouse of healthy ingredients like coconut aminos and apple cider vinegar.
For more information on The New Primal marinades and cooking sauces, including ingredients and recipes, visit www.thenewprimal.com.