"Soil Matters": General Mills promotes regenerative farming with Annie's products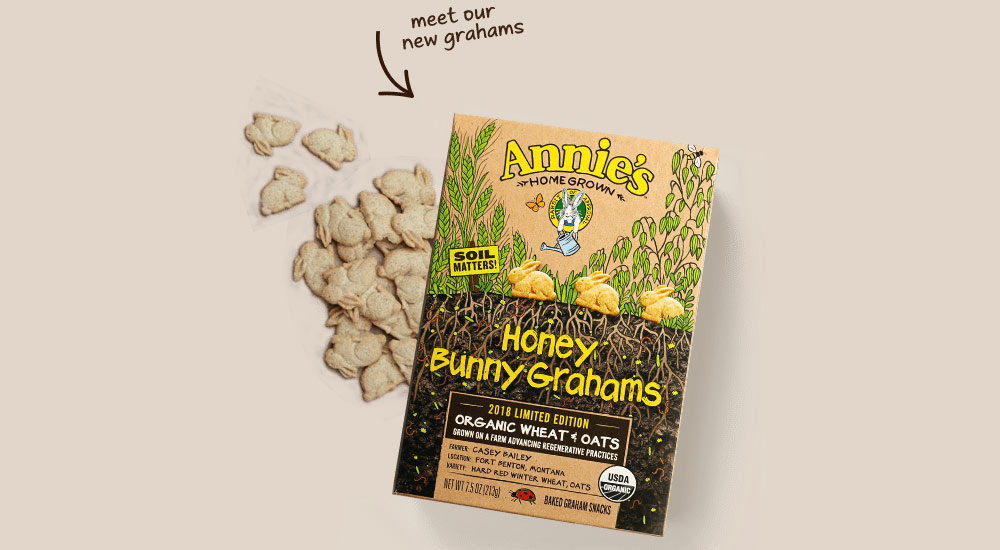 By vast
Published: April 4, 2018
Category: Regenerative Agriculture, The Organic & Non-GMO Report Newsletter
The prognosis for U.S. soil is bleak: industrial agriculture and deforestation will have wiped it out in 60 years, scientists predict, unless we change course. Regenerative farming was a hot topic at Natural Products Expo West, where General Mills showcased new products with ingredients grown from regenerative farms.
Annie's Limited Edition Organic Mac & Cheese and Organic Honey Bunny Grahams contain organic wheat and oats from Montana. Grower Casey Bailey explained that as a "little farmer," he's concerned about big companies' use of the organic label; he's eager to work with Annie's to prioritize soil health. Regenerative practices including cover cropping and extended crop rotation help sequester carbon and decrease greenhouse gases.
"There's now a new opportunity to not just think about agriculture practices that do no harm; [but] a way for agriculture to build towards the better good," said Carla Vernon, president of Annie's Foods.
General Mills recently gave $4 million to Xerces Society, which is working to restore pollinator habitats, leading to soil restoration. The food giant bought Epic Provisions in 2016, a meat snack company using biodynamic ranching practices. Regenerative grazing and ranching are included in the company's strategy.
Rose Marcario, CEO of Patagonia, noted that business partnerships between companies and farmers are critical in restoring a healthy agriculture climate. The company launched Patagonia Provisions, a food brand sourcing products in ways to regenerate the environment. Recently, Patagonia helped create the Regenerative Organic Certification standard.
Source: Food Business News
To view full article, visit https://www.foodbusinessnews.net/articles/11444-general-mills-getting-serious-about-soil-health?id=11444-general-mills-getting-serious-about-soil-health&ajs_uid=8565H4158945F5C&ajs_trait_oebid=6678E9140356B0P