SILT Protects Farmland for Sustainable Food Production, Not Factory Farms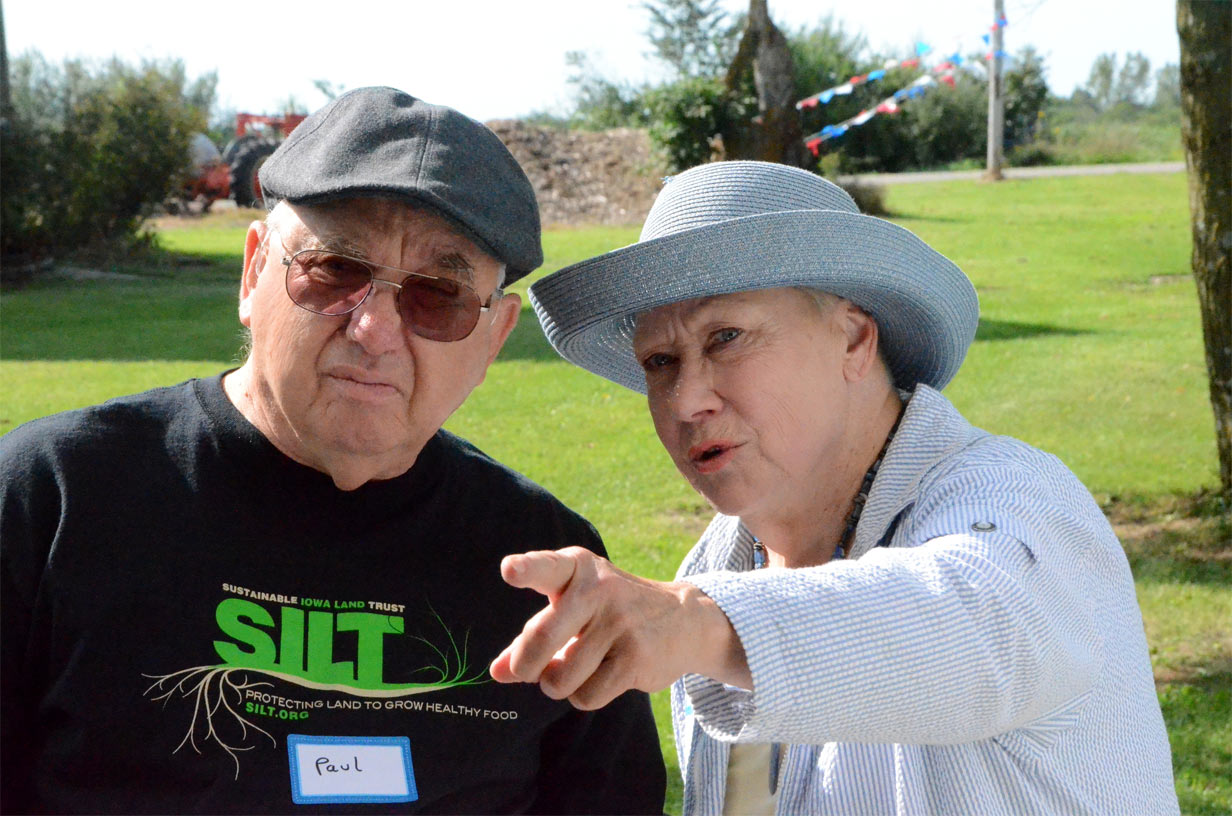 By Arianne Pfoutz
Published: June 6, 2018
Category: Organic News, The Organic & Non-GMO Report Newsletter
She's retired, but she's not spending her days tinkering with the orchards on her 80-acre property in Cedar County, Iowa. Since her return to Iowa in 2010, former professional writer Suzan Erem has sunk her spade into an urgent mission: locating and preserving Iowa farmland for farmers eager to grow food sustainably before the land is plowed under or paved over.
The Sustainable Iowa Land Trust (SILT), founded by Erem and 24 long-time Iowa leaders, aims to keep silt where it belongs, on the farm, through truly sustainable food farming. One strategy is to take the price of land out of the equation for sustainable farmers forever, while allowing them to gain equity in their homes, farms and businesses. The other is to attach land protection agreements to deeds that make the land more affordable for future healthy food farmers as it sells from one to the next over time.
These land protection agreements prohibit factory farms from being built and operated on the land.
"We don't have time to wait," said Erem. "Elderly farmers are dying off as we speak; we want to give the next generation of sustainable farmers a chance before it's too late. We're losing 25 acres of farmland every day, endangering our food sources."
SILT is seeking donations of land and easements. On land donated to the trust, it offers long-term, inheritable land leases for aspiring farmers unable to come up with the money to purchase high-priced land. Farmers can then plow resources into the farm instead of into a mortgage.
A SILT easement is also considered a donation. Landowners can derive significant tax benefits, if eligible. Landowners sign a land protection agreement attached to the deed, specifying the things the landowner can, can't, or must do to ensure the land continues to be protected as a sustainable food farm. The restriction on the use of the property lowers its appraisal value, but that difference in value is considered a charitable donation to a land trust, with 16 to 20-year tax benefits.
"The easement model makes tax incentives real," said Erem. "If eligible, a landowner can recoup up to 70-80 percent of value by establishing an easement, while still retaining ownership of the property."
"It all depends on who owns land and what its dedicated use is," Erem said. "Farm tenure needs to be secure to build a permanent sustainable food system. We envision SILT farms in concentric circles surrounding communities. Food will be local, with small-scale, friendly diverse farms. The land trust farms will be education centers for sustainable agriculture."
Erem researched soil health, sustainable farming and the idea of protected farmland, curious if anyone was doing this in Iowa. It turned out no one was. "I pulled from a Who's Who of local sustainable agriculture, environmentalism, planning and development: Denise O'Brien (Women Food & Ag Network, National Family Farm Coalition), Fred Kirschenmann (Leopold Center for Sustainable Agriculture), Bill Stowe (Des Moines Water Works), and former state Senator Jean Lloyd-Jones. It evolved into the notion of a land trust."
A founding retreat was held in late 2014 in Perry, Iowa where 25 participants hammered out details. "We realized we didn't need to protect all Iowa farmland, but protect the land farmers need to bring food to market. And we needed to hurry."
The National Young Farmers Coalition found that one-quarter of the land trusts that oversee [typical] conservation easements have seen protected land go out of production. Why? Because most land trusts exist to convert or protect lands as much-needed prairie and timber. But doing that makes the farmland surrounding those areas much more expensive, because developers can sell it to people of means who want a beautiful back yard maintained by a land trust. SILT saw it didn't need to fight developers—they can make their money off the views while an affordable, nature-friendly family farm blossoms in the middle!
SILT currently comprises four farms, totaling 300 acres. It accepts donations of five to 500 acres or more. The donations/easements include non-farmed acreage, prairie land, conventionally farmed land, some acres that have transitioned to organic, and the latest donation, the 170-acre Luzum Farm near Decorah, with about 98 conservation acres and 70 in organic grains, timber and pasture.
SILT prospects land mostly by word of mouth. "We have a steady stream of landowners coming to us," Erem said. "And for farmers looking for land, the word is out. We announced criteria for operating our recent acquisition, and 18 farmers showed up."
SILT sponsors showcase days, where parties can visit a SILT farm and see how it works. Communities can hold a "Grow SILT" party where SILT brings speakers and locals bring food and entertainment. A November 16th fundraiser at Embassy Suites in Des Moines will feature locally sourced food and land protector awards. Tickets are available at silt.org.
"It's incredibly gratifying to give landowners and retiring farmers this choice," Erem said. "It brings peace of mind to know that their land can remain forever in sustainable production. One farmer retiring from a 150-year heritage farm said he was relieved to find a solution.
"An entire millennial generation eager to grow food has been left out by land prices," Erem said. "This is an elegant solution—affordable land, with a stabilized food supply that heals the environment. Interest is strong, and we're seeking more resources to keep growing the model."
Originally appeared in the 2017 Fall/Winter Jefferson County Farmers & Neighbors, Inc Newsletter. Reprinted by permission. www.jfaniowa.org
Source: Jefferson County Farmers & Neighbors
To view full article, visit: