Proposed labels for genetically engineered foods aim to put smiley face and sunshine on bad technology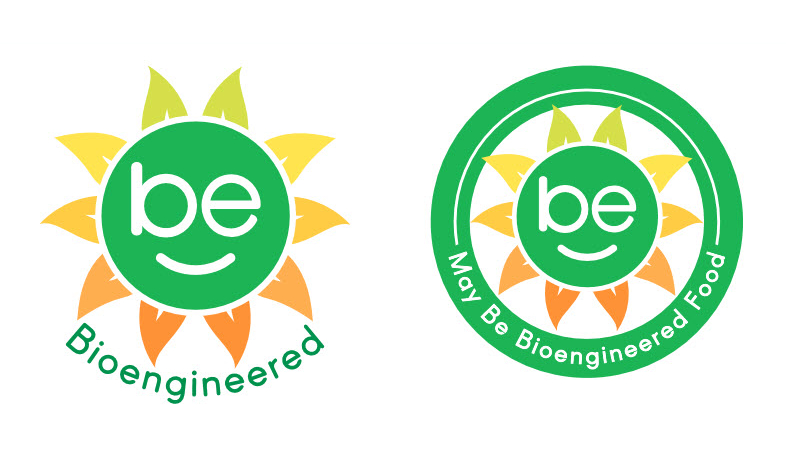 Published: June 6, 2018
Category: The Organic & Non-GMO Report Newsletter
In early May, the U.S. Department of Agriculture released its draft proposal for labeling foods containing genetically engineered ingredients, and the 106-page document was met with criticism and many unanswered questions.
The 106-page proposed National Bioengineered Food Disclosure Standard resulted after legislation requiring labeling of GMO foods was passed by US Congress and signed into law by President Obama in 2016. The legislation required that the law come into effect by July 29, 2018.
One of the biggest criticisms of the labeling standard was its terminology. Instead of using highly recognizable terms like "GMO," "genetically modified" or "genetically engineered," the standard uses the term "bioengineered." Proposed labels feature the acronym "BE" with cartoonish smiley faces and sunshine.
George Kimbrell, legal director for the Center for Food Safety, called the proposed labels "propaganda for the industry."
"It's misleading and confusing to consumers to now switch that up and use a totally different term, bioengineered, that has not been the standard commonplace nomenclature for all of this time," said Kimbrell in an interview with NPR.
Other label options proposed in the standard include text messages, electronic or digital link disclosure such as QR (quick response) codes that must be read using a smart phone.
The QR code option, which is preferred by the food and agriculture industries, has been heavily criticized because it could be time-consuming, confusing and inconvenient for consumers to get GMO information.
Questions also remain about which foods will be subject to labeling, how much GM material in a food will be allowed before labeling is required, and whether foods containing highly processed ingredients made from GM crops will require labeling. There are also questions about whether foods produced using newer "extreme" genetic engineering techniques such as gene editing and synthetic biology will be labeled.
Overall, GMO labeling supporters say the proposed law will continue to allow food companies to hide the presence of GMO ingredients.
"The USDA's proposed loophole-ridden GMO labeling rules are a giveaway to the agribusiness and food industries that want to keep consumers in the dark about what they are eating," said Wenonah Hauter, executive director of the consumer group Food & Water Watch.
The USDA is accepting public comments on the GMO labeling standard until July 3. Comments can be submitted at www.regulations.gov. Enter "National Bioengineered Food Disclosure Standard" in the search field.
The law is expected to be finalized by the end of this summer.
Sources: National Public Radio, Washington Post, Food Dive
To view full articles, visit:
https://www.npr.org/sections/thesalt/2018/05/19/612063389/usda-unveils-prototypes-for-gmo-food-labels-and-theyre-confusing
https://www.washingtonpost.com/news/wonk/wp/2018/05/04/mandatory-gmo-labels-are-coming-for-your-food/?utm_term=.030135773b9d
https://www.fooddive.com/news/gmo-labeling-moves-one-step-closer-to-reality-but-what-will-it-look-like/522758/