Organic livestock and imports continue to drive the market according to Mercaris' Organic Commodities Outlook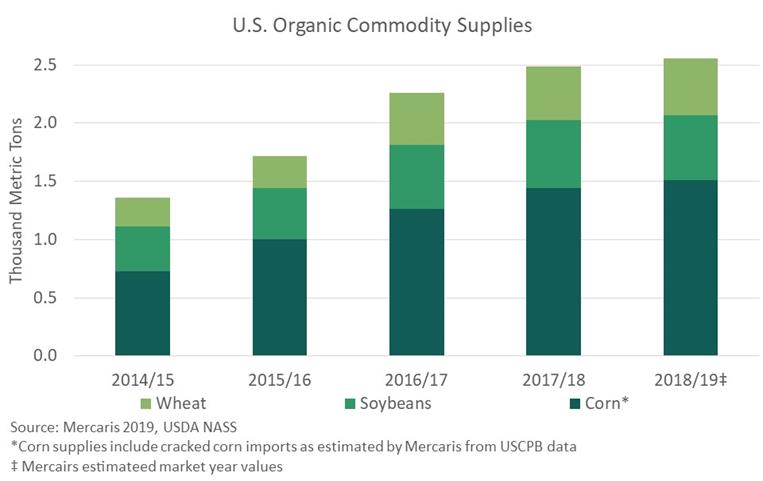 By vast
Published: April 5, 2019
Category: Market News, The Organic & Non-GMO Report Newsletter
By Ryan Koory, senior economist, Mercaris
U.S. organic commodity markets continue to expand according to the recently released Mercaris Organic Commodities Outlook. The report provides a comprehensive outlook for production, trade, and demand across the top U.S. organic field crop commodities as well as estimates of U.S. organic livestock and feed demand.
The report finds that U.S. organic corn supplies are on track to reach a record 59.5 million bushels over the 2018/19 marketing year (MY), as both production and imports achieve year over year (y/y) gains. Similarly, U.S. organic wheat supplies are projected to reach a record 18 million bushels, led exclusively by an 8 percent y/y increase in U.S. organic wheat production. Mercaris estimates U.S. organic durum wheat production saw particularly large gains in 2018, increasing 28 percent y/y following a recovery in yields.
Despite expectations of record organic grain supplies, the report indicates that growth in organic livestock feed demand will increase 6 percent over the 2018/19 MY, outpacing the growth of U.S. organic crop production. As a result, growth in the supply of organic grains for food production and other uses is expected to remain comparatively limited through the remainder of the year.
The Mercaris Organic Commodities Outlook paints a more complicated picture for the U.S. organic soybean market. In the report, Mercaris estimates U.S. organic soybean production grew by an impressive 13 percent y/y in 2018. However, imports are still expected to remain the largest source of U.S. organic soybeans over 2018/19, despite whole organic soybean imports being on track to decline 12 percent y/y. This decline in organic whole soybean imports is more than offset by rapidly growing organic soybean meal imports, which the report estimates will increase 35 percent y/y over the 2018/19 MY. As a result, the report finds the supply of organic soybeans for food production and other uses will increase 11 percent y/y over the 2018/19 MY.
In addition to high-level market supply and demand analysis, Mercaris' Mercaris Organic Commodities Outlook also provides state level organic acreage and yield estimates, country of origin trade analysis, as well as market pricing analysis for food and feed grade organic commodities.
Source: www.mercaris.com