Organic feed demand to achieve double-digit growth again over 2018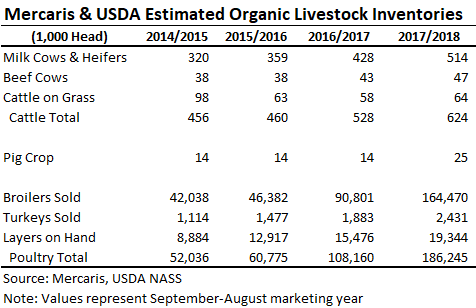 By vast
Published: June 7, 2018
Category: Market News, The Organic & Non-GMO Report Newsletter
By Ryan Koory, Mercaris senior economist
In the recently-released Mercaris Annual Organic Commodity Reports, Mercaris reported that the 2017/2018 marketing year will see continued growth in feed demand. Sustained expansion in U.S. organic livestock production is expected to push the demand for organic feed grains up 35 percent this marketing year, as compared to 2016/17. Expansion in organic egg and milk production is expected to sustain the two sectors as the largest sources of demand for organic grains such as corn and wheat, with organic egg layers expected to comprise 36 percent of organic feed-grade grain demand and organic dairy to account for 32 percent.
Although the organic egg and dairy industries remain the two largest markets for organic feed grains, explosive growth in the U.S. organic broiler sector is beginning to change the nature of U.S. organic feed demand. According to the U.S. Department of Agriculture National Agricultural Statistics Service (USDA NASS), U.S. organic broiler chicken inventories grew 145 percent over the course of 2016. Mercaris estimates that 2018 will likely see a continuation of this robust growth, resulting in an 81 percent increase in organic broiler feed demand.
The rapid expansion in organic broiler meat production is having an even greater impact on organic oilseed and meal markets. Poultry requires a higher proportion of protein in their feed rations, as compared to organic milk cows. As a result, the growth in poultry production is placing more pressure on oilseed markets relative to grains. Mercaris estimates organic oilseed and meal demand for U.S. organic livestock production will grow 42 percent over the course of 2017/18, 7 percent more than the growth in organic feed grain demand. With the aggressive growth in organic broiler production, the feed demands of the U.S. organic poultry sector are beginning to eclipse those of the organic dairy sector. Mercaris estimates that as recently as 2007/08, U.S. organic broilers and egg layers accounted for a combined 33 percent of organic oilseed and meal demand. For 2017/18, Mercaris estimates the share of organic oilseed and meal feed demand for these two sectors has more than doubled to 70 percent.
Mercaris estimated livestock share of organic oilseed and meal feed demand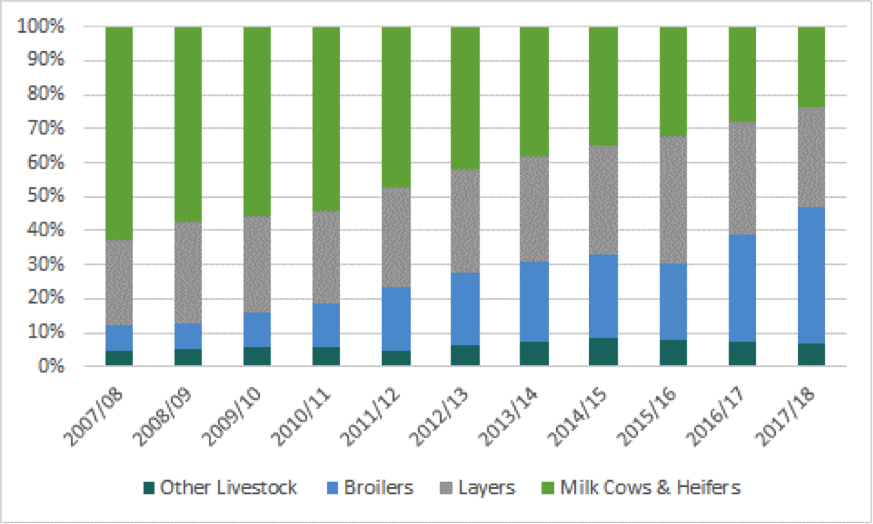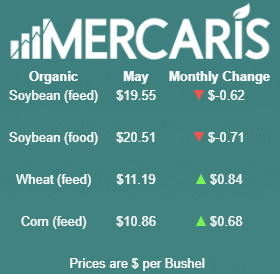 With imports down, what will be the best way to meet the growing needs of the livestock feed market? Let us know your thoughts—tweet us @mercaris or email us at mercaris@mercaris.com.