New plant-based certification to allow 5 percent GMO ingredients
By vast
Published: December 6, 2018
Category: GMO News, The Organic & Non-GMO Report Newsletter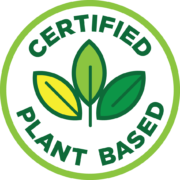 The Plant Based Foods Association (PBFA) recently launched a new Certified Plant Based program, the first and only plant-based food certification. The new program allows 5 percent genetically modified ingredients to be used in certified plant-based foods.
The Certified Plant Based protocol, which focuses on plant-based alternatives to animal-based foods, specifies the criteria required to make a certified plant-based food claim. NSF International is the certifying agency.
Foods eligible for certification include meat alternatives such as plant-based meat, poultry, and fish; egg substitutes; milk alternatives; and other dairy alternatives such as plant-based cheese, yogurt, butter and ice cream.
Genetically modified proteins are one of a group of ingredients allowed for use in Certified Plant-Based products as long as individually or combined they do not exceed five percent of the product formula. Other ingredients allowed include flavors and colors, leavening agents, acids such as citric and others, gums, vitamins and minerals, microorganisms such as probiotics and yeast, and enzymes.
PBFA members Tofurky and Oatly are the first brands to participate in the new program. The first certified food and beverages include Tofurky's Italian Sausage and Oatly's Original, Barista, Mocha Barista, Chocolate and Low Fat varieties.
According to PBFA-commissioned data from Nielsen released earlier this year, plant-based food sales grew by 20 percent from the previous year, outpacing every other food sector by 10 times. With the rise of innovative plant-based foods such as plant-based yogurt, cheese and meats, 39 percent of Americans are trying to eat more plant-based foods, according to a 2017 Nielsen Homescan survey.
Sources: Plant Based Foods Association, Sustainable Food News
To view full article, visit:
https://plantbasedfoods.org/wp-content/uploads/2018/11/Certified-Plant-Based-Release.pdf
https://sustainablefoodnews.com/trade-group-nsf-launch-first-certified-plant-based-label/