Nature's Path advances regenerative organic agriculture with new product launch, certification of family farm
By vast
Published: June 2, 2020
Category: Regenerative Agriculture, The Organic & Non-GMO Report Newsletter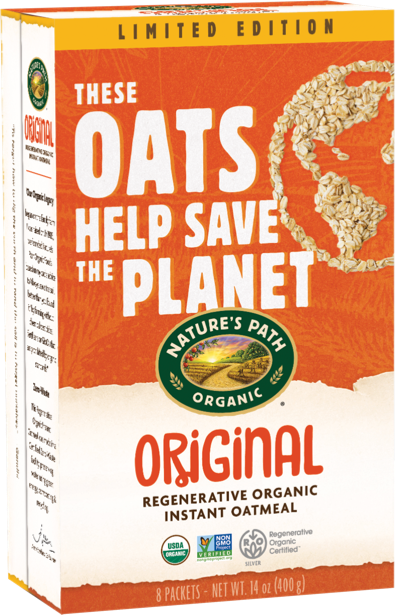 Nature's Path, the family-owned organic breakfast and snack food company, celebrated the 50th anniversary of Earth Day by launching a limited-edition product that brings to life the company's vision of combatting climate change. Nature's Path believes that tackling climate change can begin with the food we eat, and that is why, in addition to their commitment to sustainable packaging, being carbon neutral, and environmental giveback programs, the company is launching their first line of Regenerative Organic Certified Instant Oatmeal.
Grown on their Founder's organic farm, Legend Organic Farm, and cultivated with specific methods that capture more carbon from the atmosphere, every bowl of their new oatmeal helps to tackle climate change. Nature's Path Regenerative Organic Oats are the world's first product of their kind, and the result of the company's pioneering efforts, alongside the Regenerative Organic Alliance (ROA) to advance regenerative organic agriculture.
In March, Nature's Path Founder Arran Stephens announced that Legend Organic Farm is the largest organic farm in the world to obtain Regenerative Organic Certification® from the Regenerative Organic Alliance.
In 2017, the Stephens' purchased the 5,000 -acre farm near Duck Mountain, Saskatchewan, Canada. They enlisted 25-year organic agriculture industry expert Stuart McMillan to help design and implement pilot programs for regenerative organic practices.
"At the heart of Nature's Path is a vision to build a food movement that moves us towards healing the soil, land, water, air and all of us who rely on the health of the planet." says Arran. "In earning this certification, we celebrate our partnership with ROA as we continue to move towards this goal."
Regenerative organic agriculture is a holistic system that goes above and beyond traditional organic certification requirements. The practice aims to sequester carbon through a combination of techniques including cover crops, soil maintenance, reduced tillage frequency, adoption of new weed control tools, increased plant diversity, and soil testing. Sequestering carbon into the soil could dramatically impact the course of climate change.