"Modified: A Food Lover's Journey Into GMOs" receives James Beard documentary film award
By vast
Published: May 27, 2019
Category: GMO News, The Organic & Non-GMO Report Newsletter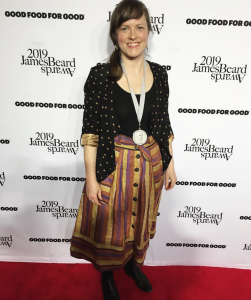 Filmmaker Aube Giroux recently was honored with the James Beard Award (the "Oscars" of the food world) for her work exploring the labeling of genetically modified foods.
A decade-long labor of love, "Modified: A Food Lover's Journey Into GMOs" follows Aube and her mother Jali Giroux, whose shared love of food leads them into a deeply personal investigation of why GMOs are not labeled in the U.S. and Canada.
"She passed on to me her belief that we all have a right to know how our food is produced, and that with every bite we eat, we're making a choice about the kind of world we want to live in and the kind of agriculture we want to support," Aube said.
After living in Europe, where GMOs are labeled, Aube was intrigued by agribusiness's control over regulatory agencies and food policies in North America. The new U.S. food disclosure act will not require clear text labels so consumers can be informed.
The film, a visual celebration of food and cooking, features recipes and cooking vignettes from the filmmaker's award-winning farm-to-table cooking show on PBS Food.
Source: modifiedthefilm.com
To view the original article, visit: www.modifiedthefilm.com