Latest research shows that sustainability is surviving COVID-19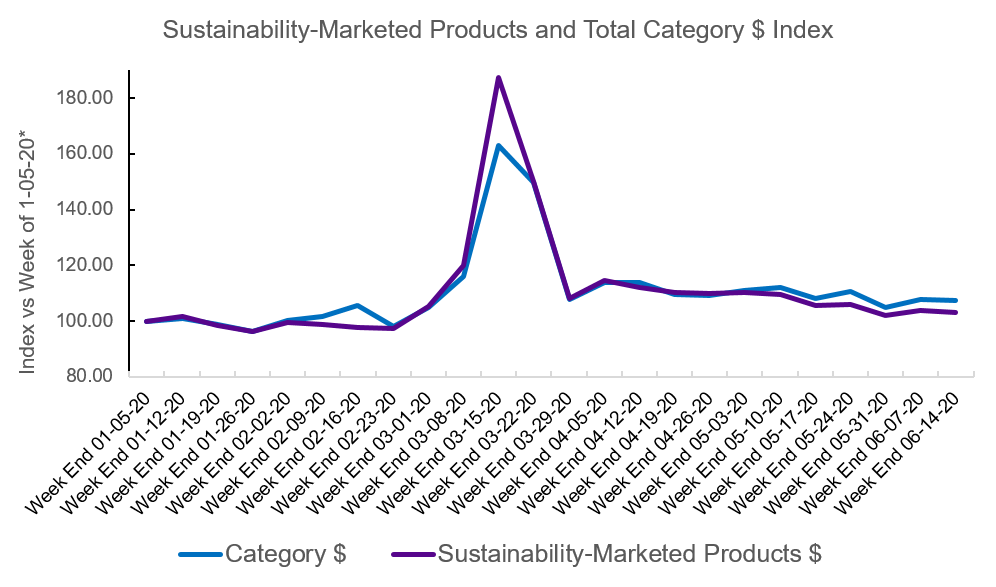 Published: August 8, 2020
Category: COVID-19 Pandemic Impacts, The Organic & Non-GMO Report Newsletter
Consumers buying more or as many organic products as they did prior to pandemic
Products carrying a sustainability claim, including organic, have continued growing during the COVID-19 pandemic, gaining a 17% market share during the first six months of 2020, according to research by IRI® and NYU Center for Sustainable Business.
More than half of consumers said they are buying more or as much organic products as they did prior to COVID-19, and 7 in 10 said they are buying more or as many eco-friendly products.
Other results from the Sustainable Market Share Index include:
COVID-19 findings

During a period of record CPG (consumer packaged goods) growth, sustainability-marketed products continued to grow with 16.8% dollar market share year-to-date, up 0.6 ppts (percentage points) vs. 2019.
During the week ending March 15, 2020, when CPG sales peaked due to COVID-19, sustainability-marketed products experienced a +1.9 ppts share increase (vs. the prior week), and dollar sales increased 56%during that same period. The categories that experienced the greatest share growth in sustainability-marketed purchases that week were paper products, weight control products, coffee and soap.

Market growth findings

From 2015 to 2019, sustainability-marketed products contributed 54.7% of overall CPG market growth while representing 16.1% dollar share of the category in 2019
"Consumers recognize that they can influence brands to 'do the right thing,' and in these days of COVID-19, #BlackLivesMatter and climate change, doing the right thing has never been more important. Purchasing of sustainable products is a trend with staying power," says Professor Tensie Whelan, founding director of the NYU Stern Center for Sustainable Business. 
Source: IRI
To view the source article, visit: https://www.iriworldwide.com/en-us/news/press-releases/latest-research-from-nyu-stern-center-for-sustaina
To view the Sustainable Market Share Index report, visit: https://www.stern.nyu.edu/sites/default/files/assets/documents/NYU%20Stern%20CSB%20Sustainable%20Market%20Share%20Index%202020.pdf