Glyphosate Residue Free Certification market reaches $204 million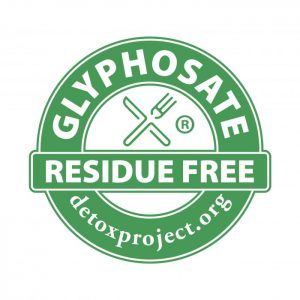 Published: October 7, 2020
Category: Pesticide News, The Organic & Non-GMO Report Newsletter
The Detox Project recently released the first ever data on the Glyphosate Residue Free certification market in September, after reviewing 2020 second quarter data provided by their data partners SPINS.
SPINS found that the Glyphosate Residue Free market has reached USD $204 million, an increase of 58.2% year on year.
Glyphosate Residue Free certification is a relatively new seal on the market, having been launched by The Detox Project in 2017. Since its introduction it has caught the attention of brands and consumers alike, with a concentration of interest in the U.S. and more recently also internationally.
Linkage Research & Consulting also recently revealed, in a large-scale Internet-based study, that consumer recognition of Glyphosate Residue Free certification has surged. It is now one of the fastest growing certifications in North America.
Brands such as Oatly, MegaFood, Chosen Foods, Puris and Once Upon a Farm are among the 70+ brands that have certified some or all of their products as Glyphosate Residue Free. The American e-commerce membership-based retailer Thrive Market has also thrown its support behind the certification.
"Six years ago, Thrive Market became the first national retailer to go entirely non-GMO in our food catalog due to the health and environmental risks of round-up resistant crops. We vet every product on Thrive Market to ensure they meet the highest standards in the industry," said Nick Green, Thrive Market CEO.
"In September of 2019, we were proud to go one step further by supporting a new gold standard to ensure that our members and our planet are safe from glyphosate contamination. We're thrilled to watch the industry evolve, offering more transparency for the consumer, something we've valued since inception," Green said.
Source: The Detox Project
To view source article, visit: www.detoxproject.org