"Glyphosate-free" becomes newest clean food label
By vast
Published: December 6, 2018
Category: Glyphosate Controversy, The Organic & Non-GMO Report Newsletter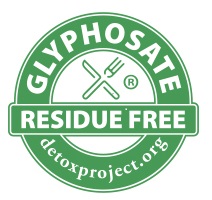 Since being classified a "probable human carcinogen" by the World Health Organization, and making California's Prop 65 harmful chemical list, the herbicide glyphosate has gained notoriety among consumers, activists, and landscape and farm workers. It's the main ingredient in Monsanto's hugely popular Roundup weed killer, and it has been implicated as causing cancer.
Now it has spawned a new certification label—"Glyphosate Residue-Free"—as testing has uncovered "unsafe" residues in conventional and organic food products, notably oat-based breakfast cereals, granola, snack bars, and baby food. Organic brands are now testing and third party certifying their products as herbicide-free. Spray drift, soil contamination, and desiccation of crops allow infiltration of glyphosate into food.
"Glyphosate is used to dry out (desiccate) crops a few weeks or days before harvest," said Henry Rowlands, Director of The Detox Project. "Food brands can request that farmers…. not use glyphosate as a desiccant."
In 2015, Rowlands initiated testing for glyphosate in urine and hair; he discovered no one was consistently testing the food supply. When levels of glyphosate in conventional, organic and GMO products from big-name brands were revealed, the Project created the Glyphosate Residue-Free certification. For $1,472 per year, manufacturers can certify all products. Rowlands has certified 17 brands, with 30 in the pipeline.
Foodstirs, a baking mix brand, is the first organic brand with national distribution to acquire the certification. Co-founder Greg Fleishman says it is in line with consumers' request for a totally clean product; he expects many other brands to follow suit.
Source: Forbes
To view full article, visit:
https://www.forbes.com/sites/kateharrison/2018/10/26/meet-the-next-must-have-clean-food-label/#43d8f66829a3