FoodState® rides the wave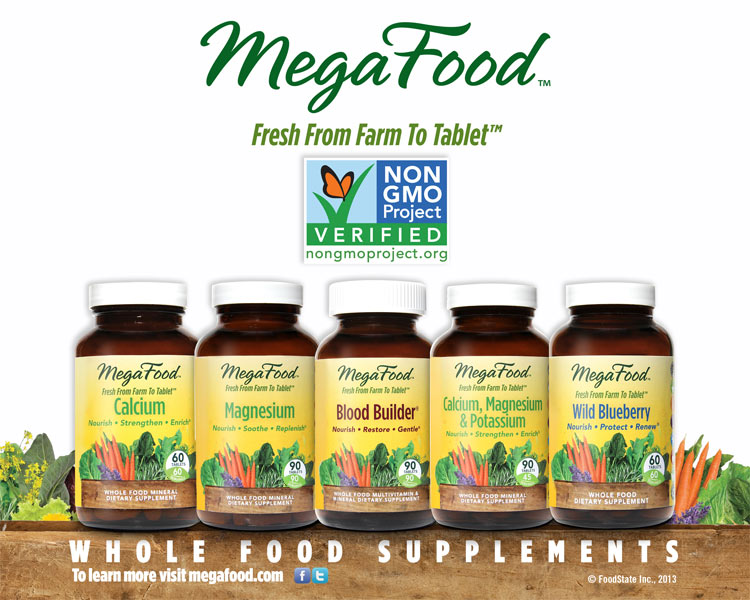 Certified B Corporation, certified Glyphosate Residue Free, Big "T" transparency, "Real Food," and more
By vast
Published: August 4, 2018
Category: Company Profile, The Organic & Non-GMO Report Newsletter
By Simi Summer, Ph.D.
According to industry analysts the global herbal supplements market is projected to reach $140 billion by 2024. Citing drivers which include an aging population as well as increasing consumer interest in overall health and well-being, supplements are big business worldwide.
In a nutritionally deficient world, supplement product purity, safety, and nutrient utility are essential to foster health. To meet the need of the time, FoodState, a pioneer in the natural supplements industry and maker of MegaFood nutritional supplements, announced B Corporation certification and an ambitious social sustainability plan for the coming year. FoodState is also the first company to verify its entire supplement line as Glyphosate Residue Free (GRF). This combination is augmented by their unique program of charitable giving whereby FoodState earmarks a portion of the proceeds from products containing fresh foods from their organic farm partners to charities associated with those farms. With a proprietary whole food production method, outstanding nutrient delivery system and live camera transparency policies, FoodState/MegaFood has been riding the wave of supplement innovation for 45 years.
FoodState philosophy: Whole food vs fractionalized nutrients
Since its inception, MegaFood has been holding firm to its founding premise that supplements should be made from fresh whole foods. With more than 90 percent of their testing taking place in the company's ISO-9001 certified lab facility, MegaFood is dedicated to maintaining the highest standards of product purity and safety. As early as 1973 the founders took a unique approach to nutrition and supplementation unfolding the connection between real food consumption and vitamin utilization on a rigorous scientific ground. Emphasizing "food factors" in whole food needed to deliver and utilize nutrients on the cellular level, the company's unique formulas make use of the body's inherent intelligence.
Glyphosate Residue Free certification meets consumer demand
Market trends continue to verify that consumers show a preference for whole, unadulterated foods and supplements which are free from pesticides and genetically modified ingredients. Although MegaFood products do not claim to be 100 percent organic, the company goes the extra mile to meet the consumer demand for product purity. The MegaFood testing and certification program includes Non-GMO Project verification, rigorous tests for pesticides and herbicides, gluten-free testing, vegan certification for specific products, ISO quality assurance to meet international standards for operating and testing procedures and compliance with Good Manufacturing Practices. All of their supplements are vegetarian in support of a plant-based sustainable diet.
In the past year, MegaFood stepped forward to meet the health and environmental concerns associated with the widespread use of glyphosate herbicide. In November 2017, the company became the first to have its entire supplement line certified glyphosate residue free (GRF) by the Detox Project, an independent research and certification organization.
Certified B Corporation supports company mission
At Natural Products Expo West 2018 MegaFood announced its B Corporation certification by the global nonprofit B Lab. To meet the rigorous standards of social and environmental performance, this certification supports the company's mission "to nourish a world in nutritional crisis through education, community and conscientious farming practices." Certified B corporations use the power of business to solve social and environmental problems.
According to Robert Craven, president and CEO of FoodState, Inc.: "We envision a world without nutritional poverty—a planet where everyone is nourished. Becoming certified as a B Corporation is an important step in ensuring that this vision becomes a reality in our lifetime. B Corp certification gives us clear guidelines and targets to shoot for, allowing us to operationalize and express our passion to solve our nutritional crisis in a number of ways. By taking social impact directly into our corporate strategies and holding ourselves to a higher standard, we're positioned to change this world for the good."
"Certified B Corporations distinguish themselves by committing to higher standards of transparency, accountability and performance, creating a better way of doing business," said Jay Coen Gilbert, co-Founder of B Lab. "B Corps come from over 130 different industries and over 50 countries, and MegaFood is among a handful of premium supplement companies that have achieved this status."
"All of us at MegaFood are extremely excited about the road we are on towards formalizing our social impact," said Sara Newmark, MegaFood vice president of social impact. "We're deeply committed to ensuring a more sustainable future through our work and this certification better enables us to make progress in solving the needs of a world in nutritional crisis."
Simi Summer is an independent researcher and freelance writer.