AAAS upholds science award to glyphosate researchers despite industry backlash
By vast
Published: November 26, 2019
Category: Pesticides, The Organic & Non-GMO Report Newsletter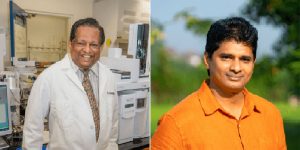 After a nine-month review of an initial decision, the American Association for the Advancement of Science (AAAS) has held firm in giving two Sri Lankan scientists an award for discovering a possible link between glyphosate exposure and chronic kidney disease.
When AAAS originally announced the recipients, Sarath Gunatilake and Channa Jayasumana, glyphosate defenders were furious; GMO and pesticide proponent Kevin Folta falsely claimed "there were no data" in the published papers. The AAAS acknowledged that the initial press release was inaccurate, in suggesting a causal connection between glyphosate and the disease, rather than an "association."
GM Watch noted, "A less than ideal choice of words on the part of the author of a press release is an argument for modifying the press release, not reconsidering an award given to honest public interest researchers, particularly ones who have already been the victims of industry-linked intimidation." The scientists were exploring a link between a kidney disease epidemic killing thousands of people in Sri Lanka and around the world. Their hypothesis was that glyphosate was transporting arsenic, cadmium and other heavy metals to the kidneys of those drinking contaminated hard water, causing disease.
Veteran science journalist Michael Balter upheld the strength of the study and says it points to need for more research, not "industry-sponsored dismissal and obfuscation."
Sri Lanka has implemented a partial ban due to the work, and the scientists have faced harassment and death threats.
Source: GM Watch
To view source article, visit:
https://www.gmwatch.org/en/news/latest-news/19204-aaas-gives-scientific-freedom-award-to-scientists-who-identified-possible-glyphosate-kidney-disease-link?fbclid=IwAR2Kc3R1zclr3Z4NkqHucXVBgyGu85MlFJre71B_Am4KzBp5tpEB5H7m57I