USDA confirms that certified organic products can make non-GMO claims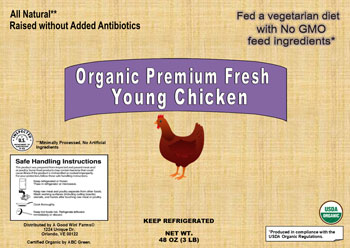 By vast
Published: January 28, 2020
Category: Non-GMO News, The Organic & Non-GMO Report Newsletter
The U.S. Department of Agriculture's Food Safety Inspection Service (FSIS) recently released labeling guidelines stating that organic certification is sufficient for meat, poultry, and egg product to make non-GMO claims.
The guidelines clarify how companies can make "negative" or non-GMO label claims that a GMO ingredient is not used in the production of meat, poultry or egg products.
FSIS approves "negative" or non-GMO claims through its prior label approval process. Because FSIS does not have the ability to independently verify non-GMO claims for ingredients or feed, the agency has required businesses that make these claims to comply with standards established by a third-party certifying organization such as the Non-GMO Project.
In order to substantiate a non-GMO or negative claim, FSIS requires a current copy of a third-party certificate showing the product is non-GMO.
A USDA-accredited organic certifier is an example of a third-party certification organization. For products that qualify for an "organic" claim under the USDA organic regulations, businesses are not required to provide FSIS with additional documentation for approval of negative claims. USDA organic certification "shall be considered sufficient to make a claim regarding the absence of bioengineering in the food, such as "not bioengineered," "non-GMO' " or other similar claims in accordance with the USDA organic regulations.
FSIS states that certified organic products may be labeled with negative claims—such as "derived from beef fed no GMO feed"—provided the claim is connected by an asterisk or other symbol to the statement, "Produced in compliance with the USDA Organic Regulations."
The USDA organic regulations prohibit the use of genetically engineered products.
The Organic Trade Association says it is pleased that FSIS has clarified guidelines for the organic label and in both cases recognizes and accepts organic certificates to substantiate a suite of label claims and attributes commonly used on meat and poultry products.If you have any questions or concerns about the FSIS Guidance, contact Gwendolyn Wyard, vice president of regulatory and technical affairs.
Source: U.S. Department of Agriculture Food Safety Inspection Service
To view source article, visit: https://www.fsis.usda.gov/wps/portal/fsis/topics/regulatory-compliance/labeling/claims-guidance/procedures-nongenetically-engineered-statement/!ut/p/a1/jZHBTsMwDIafhUOPbdJ1TCu3UgmxsrWaEJD1gtLWS4NSp0rTVfD0BLgA2mD2ydb3y79tUhJGSuQHKbiVGrn6qMvFM93SRRinNKOhy1Ue3c9vszyis8gBu-9AEYc3DnjcFndpSpd5dKb-RCT0P312xoCZ2aQbQcqe29aXuNeEKV6BkigIqxWX3eCLUTYcayCsN7qGZjQw-KhRAIKVNVfq1QcUEgEMNP5guYUO0JInUv5poZj_Bo7c6As4fQS3pVC6-nzILsEqWrp1DOydFxOMxrVba_vhyqMenaYpEFoLBUGtO48ek7R6sIT9JEnfPbC39XW8erlUh3Vy8Q5765FY/#2