Tests find glyphosate in many restaurant foods, Canadian honey, popular beer and wine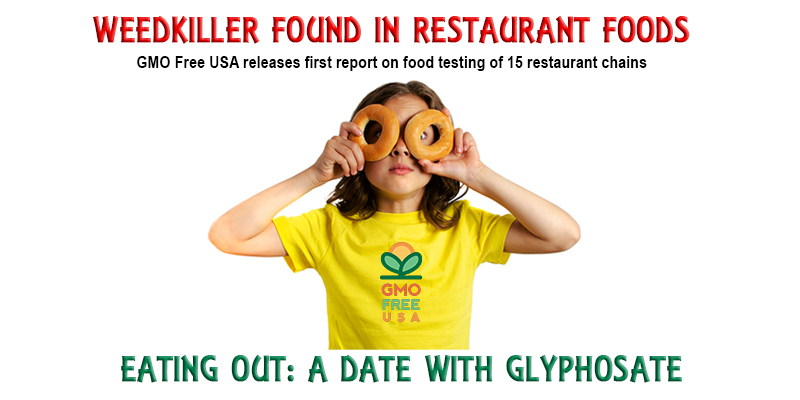 By vast
Published: April 6, 2019
Category: Glyphosate/Pesticides, The Organic & Non-GMO Report Newsletter
Recent tests are revealing how pervasive glyphosate herbicide is in the food system. Researchers have found the weedkiller, the main ingredient in Roundup herbicide, in many U.S. restaurant foods, popular beer and wine products, and Canadian honey.
A new round of food testing commissioned by GMO Free USA found that the weedkiller and its by-product aminomethylphosphonic acid, are pervasive in foods served by major restaurant and fast food chains in the United States.
Foods from popular restaurant chains including Chili's Grill & Bar, Domino's Pizza, Dunkin' Donuts, IHOP, Le Pain Quotidien, McDonald's, Olive Garden, Outback Steakhouse, Panera Bread, Papa John's, Pizza Hut, Pret a Manger, Subway, Taco Bell, and Whole Foods Market were tested.
Thirty-eight different menu items were tested, some more than once. Glyphosate was detected in 39 out of the 44 restaurant food samples tested, in 33 of the 38 menu items. Foods with no glyphosate detected included beef, chicken, egg and sweet potato.
A recent report by California Public Interest Research Group (CALPIRG) found that many brands of beer and wine sold in the U.S. also contain glyphosate. In the report, Glyphosate Pesticide in Beer and Wine, CALPIRG tested 20 beers, wines and hard cider, including several organic brands, for glyphosate/Roundup and found that all but one contained the harmful chemical.
In Canada, government scientists found glyphosate in 197 of 200 samples of honey they examined. The prevalence of glyphosate in the samples, 98.5 percent, was higher than what was reported in several similar studies conducted in the last five years in other countries.
Source: GMO Free USA, CALPIRG, Environmental Health News
To view the full articles, visit:
Eating Out: A Date With Glyphosate
https://calpirg.org/news/cap/popular-weed-killer-roundup-found-top-beer-and-wine-brands
https://www.ehn.org/weed-killer-residues-found-in-98-percent-of-canadian-honey-samples-2632384800.html