Prairie strips see strong and growing interest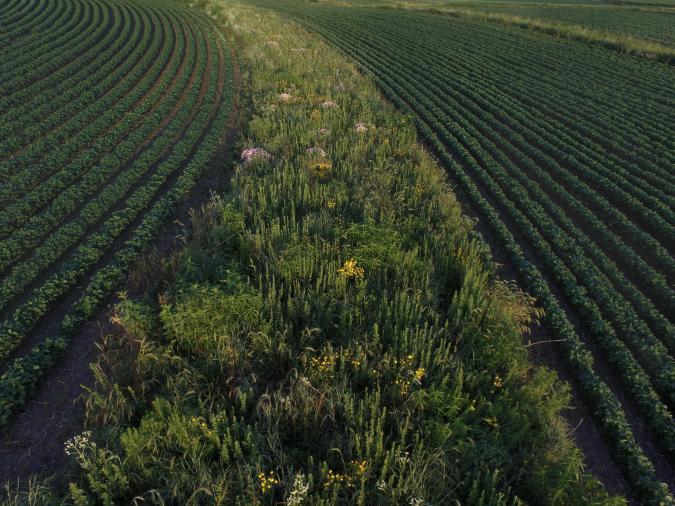 Published: December 3, 2020
Category: Regenerative Agriculture, The Organic & Non-GMO Report Newsletter
The Iowa State University STRIPS project (Science-based Trials of Row-crops Integrated with Prairie Strips) is gaining traction among a growing number of Midwest farmers who are seeing benefits such as reduced soil erosion and nutrient loss and improved water quality and wildlife habitat.
The main goals of the STRIPS project were to evaluate the impact of planting native perennial grasses and forbs within and along the edges of corn and soybean fields in Iowa.
Omar de Kok-Mercado, STRIPS project coordinator, provided some background on the STRIPS project and recent achievements at a virtual field day in July.
"Since our first collaborating farmer started on-farm prairie strips in 2014, we've continually expanded to our current count of 66 collaborators across Iowa, with 600 acres of prairie strips protecting some 5,500 acres of cropland," de Kok-Mercado said. "These numbers represent the acres of farms STRIPS and partners are working with directly, but it's starting to get harder to keep track as we're seeing widespread adoption in the Midwest."
The STRIPS project has expanded beyond Iowa to 13 more states with more than 11,000 acres of prairie strips protecting about 110,000 acres of cropland.
Research is starting to document the benefits of planting prairie strips. Farmers who add 10% prairie to no-till corn and soybean fields have seen the following benefits:
37% in water runoff
95% in sediment loss
77% in phosphorus runoff
70% in nitrogen runoff
70% in subsurface nitrate-N concentrations (untiled)
The STRIPS project is now available under the U.S. Department of Agriculture's Conservation Reserve Program. Farmers and landowners can plant prairie strips under CRP and get cost-share and an annual rental payment to establish and maintain the practice.
"It is quite exciting to be part of nationalizing the opportunity to adopt prairie strips," de Kok-Mercado said.
Source: Farm Progress
To view source article, visit:
https://www.farmprogress.com/conservation/prairie-strips-interest-strong-and-growing