GMO pink pineapple launched, at $49 each, won't be labeled GM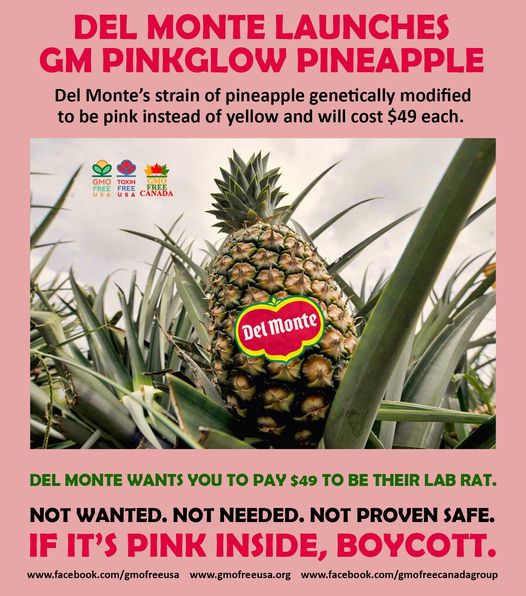 Published: December 3, 2020
Category: GMO News, The Organic & Non-GMO Report Newsletter
Del Monte's genetically modified Pinkglow Pineapple is being touted as "Jewel of the Jungle," exotic not only for its color but also for its sweeter, juicier taste. But GMO Free USA says it's "Not wanted. Not needed. Not proven safe."
Approved in 2016 by the FDA, the pineapple has been genetically engineered to produce lower levels of the enzymes already in conventional pineapple that convert the pink pigment lycopene to the yellow pigment beta carotene. Grown in Costa Rica, on a supposedly carbon-neutral farm, the Pinkglow sells for $49, partly owing to its two-year gestation period. Marketed as "looking phenomenal on social media platforms," the fruit will not be labeled as GMO.
The Pinkglow website's FAQ says the rosy color comes from lycopene, a naturally occurring antioxidant—but it doesn't mention that it was genetically modified to "favor" the lycopene. Although the FDA says the pineapples are safe based on information submitted by Del Monte, there have been no safety studies performed.
Del Monte has not yet responded when contacted about the lack of transparency.
Sources: GMO Free USA; Nexstar Media Wire; Mashed
To view source articles, visit:
https://www.wric.com/news/u-s-world/pink-pineapples-theyre-a-thing-heres-how-to-get-one/
https://www.mashed.com/261704/the-real-reason-these-pink-pineapples-cost-49/