U.S., EU regulators approve Bayer-Monsanto merger, U.S. farmers concerned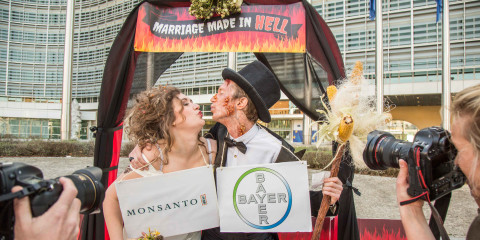 By vast
Published: April 4, 2018
Category: GMO News, The Organic & Non-GMO Report Newsletter
"Merger from hell" creates world's largest agribusiness corporation
The U.S. Justice Department recently announced that it would allow German drugs and pesticides group Bayer AG to acquire Monsanto Co. in a controversial $62.5 billion deal, after the companies agreed to sell more assets to win antitrust approval. This follows the European Commission also saying it would give conditional approval to the deal.
To ensure farmers have affordable choices of seed and pesticides, both companies must divest assets. Bayer intends to sell its seed business and R&D operations to BASF for $7.8 billion, along with herbicides and a license to its digital agriculture operations.
"There are no conditions under which these three mega-mergers are good for farmers or for world food security—and shifting assets to BASF accomplishes nothing," said Pat Mooney of ETC Group, also referring to the Dow-DuPont and Syngenta-ChemChina mergers.
According to Wenonah Hauter, executive director of Food & Water Watch, the Bayer-Monsanto deal reduces competition for sales of seeds and chemicals to farmers struggling with low crop prices, raising the risk for price gouging.
"The Justice Department's paltry divestment approach does little to address the extreme control the merged firm will have over farmers' data, genetics, biotechnology traits or the associated agrichemical industry," she said.
A national poll of U.S. farmers found 93 percent concerned about damaging impacts on farming and farm communities. The dicamba drift epidemic remains a major unsolved problem—and it could amplify with a merger.
European advocates also expressed anger about the merger. Adrian Bebb of Friends of the Earth Europe wrote: "The (EU) Commission decision … allows [Bayer and Monsanto], together with BASF, to become data giants in agriculture—the 'Facebooks of farming'—with all the pitfalls that entails. The coming together of these two is a marriage made in hell—bad for farmers, bad for consumers and bad for our countryside."
If the merger completes, only four companies will dominate seeds and pesticides: Bayer-Monsanto, Dow-DuPont, Syngenta-ChemChina, and BASF. Impetus for these mergers is a poor U.S. farm economy, control of tools like synthetic biology and gene-editing central to ag research, and "precision farming" protocols.
Sources: Reuters, Bloomberg News, New York Post
To view full articles, visit
https://www.reuters.com/article/us-monsanto-m-a-bayer/bayer-shares-jump-on-report-of-u-s-antitrust-deal-on-monsanto-idUSKBN1HG2ST
https://www.bloomberg.com/news/articles/2018-03-21/bayer-clears-eu-hurdle-for-monsanto-deal-with-basf-sale-pledge
https://nypost.com/2018/03/21/bayer-wont-force-justice-department-to-make-decision-on-monsanto-merger/?utm_source=twitter_sitebuttons&utm_medium=site%20buttons&utm_campaign=site%20buttons