"Dirt therapy" led soldier to organic farming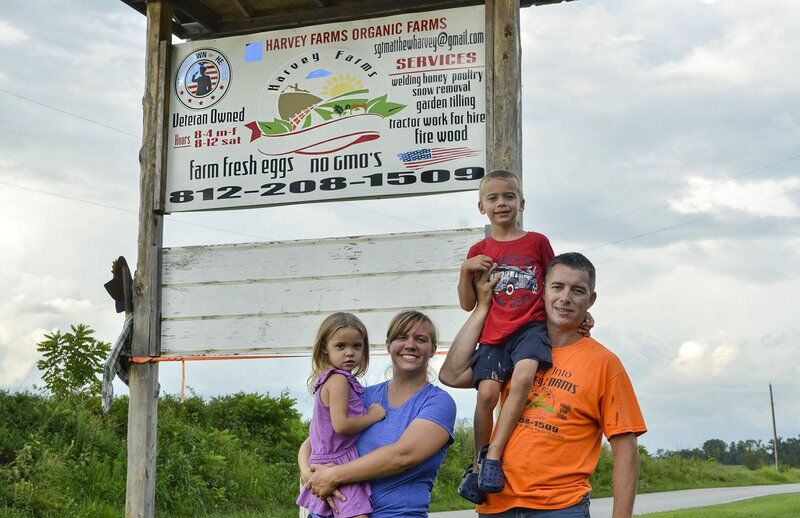 By vast
Published: August 8, 2020
Category: Organic News, The Organic & Non-GMO Report Newsletter
Harvey farm goal: Feed every customer like they're family
By Alex Modesitt, Tribune-Star
In the time between patrols and post, Matthew Harvey needed something to slow his mind, something to whisk him away from mountains of eastern Afghanistan and back to some sense of normalcy.
If it wasn't struggling to reconcile with the realities of a combat deployment, his relationships back home also weren't helping pass the time any faster.
And passing the time on a deployment is half the battle. A person can live meal to meal and keep the mind from wondering for only so long.
So, Harvey started gathering empty ammo cans and filling them with dirt, and not the rich clay-type he was accustomed back home in the Wabash Valley, but a sandy loam native to that part of Afghanistan.
His mother sent a care package of seeds, and Harvey arranged the dirt-filled cans into a farm of sorts, complete with an ad hoc irrigation system.
From then until home, save the time a monkey ravaged his sweet corn, Harvey turned to his farm when he needed some dirt therapy, as he calls it.
It was the therapy Harvey needed most.
The now-former soldier is open about his battle with post-traumatic stress disorder and the toll war has taken on his mind and body. But he's taken the lessons learned and applied them to his family farm in northern Vigo County.
"It's been proven a lot of vets turn to agriculture because of post-traumatic stress and for the isolation," Harvey said. "Out here, I can talk to the animals about whatever and they won't judge.
"I will drive around the farm, and even though I know everything is secure, I'll be putting along waiting for something to blow up underneath."
So far nothing on his northern Vigo County farm has blown up, he said as he toured the 19-acre property on Wednesday.
The farm isn't a flat, squared-off parcel, but one on which the house sits atop the hill and the farm unfolds around it. Harvey says he doesn't live on a farm but in the midst of one.
Behind the house, Harvey keeps his meat chickens, the ones he and wife Jessica will slaughter once they're appropriate size. An old barn Harvey uses as a saw mill sits just behind the pen.
Around the drive is a fenced-in area Harvey plans to use for pigs once the area is reinforced. In that pasture also sits an enclosure for the farm's three peacocks.
A hill fronts the house and ends at Greencastle Road, possibly the future home lambs or goats. Currently, the hill is covered in native wildflowers, "a good place for bees and other pollinators," Harvey says between identifying every other plant on the hill.
Another pen of chickens, these used for egg production, is north of the house and features dozen or so turkey that Harvey hopes is ready for harvest late this year.
Back toward the house is a plot the family uses for seasonal vegetables and walnut grove.
With so many irons in so many fires, Harvey said it can be difficult to keep up with it all, all of the time. But that's part of it, he figures, and part of the therapeutic education he's found in farming.
"And I'm still learning," Harvey said of his trying to work toward the future he sees for the farm. "Whether it's planning, planting, weeding or whatever — it's all a process.
"And the same goes for the animals. I'm tied to the farm all the time. It's hard to travel and take vacations with my family. But I guess that's the good and bad of a farm; you put your soul into everything you do. And sometimes it works, and other times it doesn't."
Available for purchase through the farm's website, Harvey Farms Organic Farm does all its growing and butchering to an all-organic standard; no growth hormones, no chemical pesticide or herbicide.
"We eat the same food we're selling," Harvey said. "We don't have a reserve plot where we set aside the best of everything for ourselves. Our goal is to feed every one of our customers like they're family."
While sustaining himself and his family is priority one, Harvey says that while frustrating at times, farming has also helped him find a new purpose.
"When you join the Army you have a sense of purpose; it's built into your service," Harvey said. "You go in and have no idea what post-traumatic stress or traumatic brain injuries are.
"And when you find yourself back in the civilian world without the support of squad mates or your command, and with nowhere to show you where to get the information you need, it can feel like you're in a sea of nothing by yourself.
"Where do I go? What do I do? You're stuck dealing with the demons and trying to find a new norm. I fell back on the dirt therapy I found in Afghanistan and made this place my new norm."
Reprinted with permission by Tribune-Star (Terre Haute, Indiana)
To view source article, visit: https://www.tribstar.com/news/local_news/dirt-therapy-led-soldier-to-organic-farming/article_29d1cb05-deb7-520c-8f50-8dad37fc2e84.html