Why General Mills wants supply chains to become regenerative stewards of the environment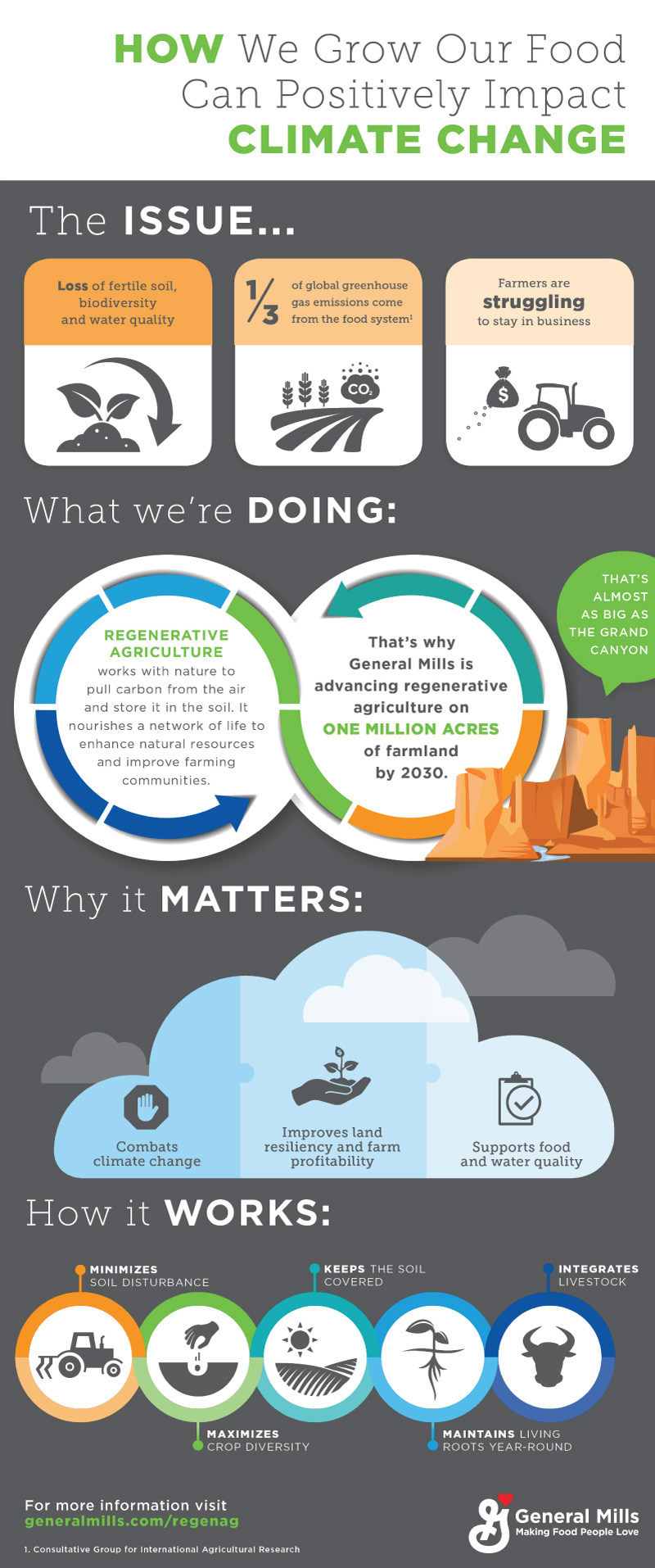 By vast
Published: April 5, 2019
Category: Regenerative Agriculture, The Organic & Non-GMO Report Newsletter
In order to address global challenges from climate change, population growth, and depletion of natural resources, U.S. food giant General Mills has made a major commitment to regenerative agricultural practices on one million acres by 2030.
General Mills believes that regenerative agricultural practices that build soil health will not only benefit farmers but also reduce atmospheric carbon to mitigate climate change.
In an interview with the website edie, General Mills' chief sustainability and social impact officer Mary Jane Melendez said that the company has finally uncovered a "true appreciation of the power of nature" through an ability to improve the yields and efficiencies located across the company's supply chain.
"The way our environment is and how quickly natural resources are being depleted, we understand that nature needs to be rebuilt," Melendez told edie. "We need to think about how we work more in harmony with the planet to make sure we are regenerating and not just mitigating and reducing our impact. There is such potential to help our farmers in a way that helps the planet.
"Over the past few years, we have made investment into soil health, for example. We were so shocked at the benefits that healthy soil provides to the planet on so many levels. It can sequester carbon, hold more water, increase farmer yields and improve wellbeing and resilience. It's so powerful."
That is why General Mills is granting $650,000 to non-profit organization Kiss the Ground to support farmer training and coaching through Soil Health Academies where growers will learn how to increase farm profitability, build resiliency into the land and decrease input costs using soil health practices.
General Mills will partner with key suppliers to drive adoption across key ingredients including oats, wheat, corn, dairy feed and sugar beets.
"Investing in soil health and regenerating our soils has numerous benefits including water infiltration, reduced pest pressure, resilience to unpredictable weather, and reducing greenhouse gasses," said Lauren Tucker, executive director of Kiss the Ground. "We have an opportunity to not just sustain our natural resources, but to restore them for generations to come. We can only advance the adoption of these practices that benefit people and the planet if we partner with and support our farmers."
Sources: edie.net, General Mills
To view full articles, visit:
https://www.edie.net/news/9/Why-General-Mills-want-supply-chains-to-become-regenerative-stewards-of-the-environment/
https://www.generalmills.com/en/News/NewsReleases/Library/2019/March/Regen-Ag