Volatility is decimating Brazil's non-GMO supply chain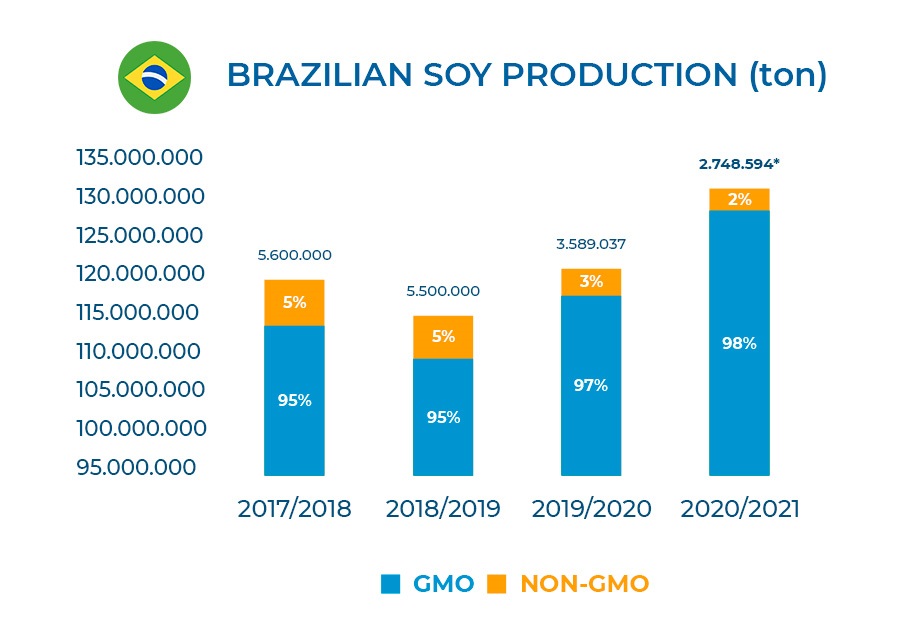 Published: April 8, 2021
Category: Non-GMO News
When genetically modified organisms (GMOs) entered Brazil's market in 2003, 30% of the country's soybean production was already using GMO seed, illegally sourced from Argentina. Since commercialization of GM Roundup Ready soybeans was approved in 2005, the illegal GM crops were also legitimized, proliferating GMO usage in Brazil.
The state of Paraná was instrumental in this; its port Paranaguá is a key center for Brazilian soybean exports. The years 2005-2020 saw a rise from 0% to 80-90% adoption of GM cotton, corn, and soybean crops. Promises of GMO technology—less fuel expenditures, fewer chemicals, and smaller labor and machinery costs—didn't always materialize.
In the non-GMO crop world, breeding seed requires a long-term commitment—with additional expenses, plus consolidation within a financially feasible logistics framework to avoid contamination and enable sales to non-GMO markets. The time constraints cause an imbalance—buyers work on maximum one-year long premium agreements, farmers need twice as much lead time to produce demanded volumes, and seed developers need a three-year window to supply required seed quantities. The inevitable resulting price fluctuations have led to substantial drops in non-GMO production: from 2017 to 2021, GM soy production rose from 95% to 98%, and non-GMO dropped from 5% to 2%.
Fluctuations in premiums kill farmer incentives to invest in non-GMO.
Pro Terra Foundation is working to ensure non-GMO food and feed availability—including supporting initiatives such as CJ Selecta's Seed Program to encourage non-GMO seed sourcing.
Source: Pro Terra Foundation
To view source article, visit:
https://www.proterrafoundation.org/news/the-non-gm-production-how-volatility-is-killing-the-supply-chain-in-brazil/
Organic & Non-GMO Insights April 2021