Organic Center pinpoints organic ways to defeat citrus greening
By vast
Published: April 5, 2019
Category: Organic Farming and Food, The Organic & Non-GMO Report Newsletter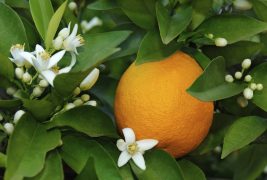 With the bacterial disease known as citrus greening, or Huanglongbing (HLB), decimating millions of citrus crop acres in the U.S. and abroad, The Organic Center has published a grower guide and peer-reviewed paper to assist organic producers.
The organic citrus industry has been hit very hard, since organic rules prohibit using synthetic pesticides or genetically modified citrus varieties to combat the disease.
The study, funded by the UNFI Foundation and published in the International Journal of Horticulture, Agriculture and Food Science, consolidates existing literature on solutions for organic citrus, both successful and unsuccessful practices. Most researchto date has been conducted in non-organic settings; although it contains methods organic could use, it's been hard to extract that particular information.
Organic strategies for fighting HLB include: combining strict disease prevention, diligent scouting, ACP control, nutritional support of healthy and infected trees, implementation of biological controls, and the planting of cultivars considered tolerant or resistant to citrus greening.
Dr. Jessica Shade, The Organic Center's Director of Science Programs, noted "without more research we'll continue to see a dramatic decline in citrus production—especially organic citrus."
Source: The Organic Center
To view full article, visit: https://www.organic-center.org/combatting-citrus-greening/