Organic advisory service helps farmers overcome the challenges of growing organic
Transitioning to organic farming can be a major challenge for farmers. The three-year transition period presents a big hurdle that requires adopting a completely new farming system without chemical inputs, purchasing new equipment for organic farming, and finding markets for transitional and certified organic crops.
But an organic advisory service started by organic farmers has emerged to help farmers make the transition. AgriSecure, based in Arlington, Nebraska, is guiding a growing number of farmers in the U.S. to make the switch to organic.
"For farmers, by farmers"
"The motivation for starting AgriSecure was trying to help more farmers in the U.S. take advantage of what organics can do for their farms," says Steve Sinkula, AgriSecure CEO, and one of the company's founders.
AgriSecure's other three founders, Bryce Irlbeck, J.P. Rhea, and Amy Bruch, are all fifth generation farmers who had transitioned to organic production.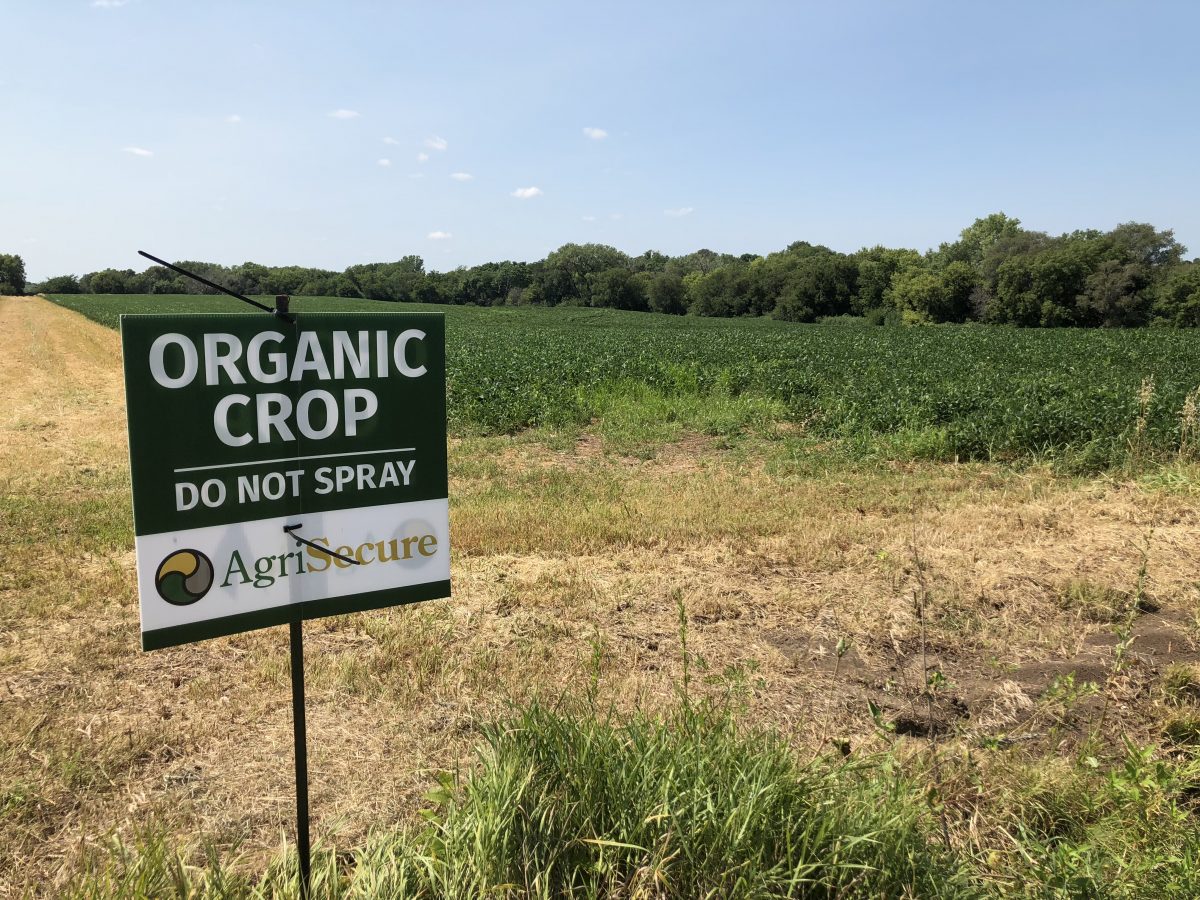 When they began working together they focused on the key things they had learned about transitioning to organic and mapped out the barriers and challenges, as well as the challenges for existing organic farms.
"They wondered: 'why aren't more farmers doing this?' " Sinkula says. "They felt that they had something to offer to the farming community and felt the responsibility to take what they had done and try to make it available to more farmers."
Sinkula emphasizes that AgriSecure is "for farmers by farmers." "There is a lot of value in having it based upon real farmers' experiences with boots on the ground."
That "boots on the ground" experience resonates with farmers. Today, AgriSecure works with about 75 farms. Many are located in Nebraska and Iowa where the founders farmed but their client base has expanded to South Dakota, Minnesota, Illinois, Indiana, Arkansas, and New Mexico. In fact, AgriSecure can work with clients nationwide.
Helpful in "putting the pieces of the puzzle together"
Keith Schwandt, who farms 1500 acres in Williams, Iowa, is one of AgriSecure's clients. He has transitioned 340 acres to organic and is in the process of transitioning another 450 and "possibly more down the line," he said.
Providing a good farming career for his 14-year-old son was one of the main motivations for transitioning to organic, Schwandt says.
"I thought why do I want to start him down the road of making $2.50 per acre (for conventional grain) and competing for thousands of low margin, low return acres for the rest of his life? He's smarter than that and can figure out how to make high management organic farming work and earn a good income."
Schwandt says AgriSecure has been very helpful in his transition to organic farming, "putting the pieces of the puzzle together."
"They were helpful in running the numbers to reassure me that the financials of organic would work. They were also helpful in analyzing the equipment I had versus the equipment that they felt I would need to make this changeover work properly."
According to Sinkula, the main challenge for farmers transitioning to organic is "pulling it all together."
"It's not one thing," he says. "It's being able to pull together that system and being able to understand the various pieces that are new and different. It's the totality of all those things that becomes the challenge."
AgriSecure tries to help transitioning farmers learn what organic production can look like on their farm.
"There are a lot of myths out there that aren't necessarily correct," Sinkula says. "Overcoming those myths and helping them understand the reality of what organic will look like on their farm is critical."
AgriSecure also helped Schwandt with the organic certification process, which he says involves "an inch of paperwork."
"That can be overwhelming. It's nice to have someone there who can help walk you through that process especially when you aren't familiar with it or haven't been in that arena before."
One-on-one advisory support
AgriSecure offers a range of services for transitioning and established organic farmers. Their "Essentials" program includes access to the company's MyFarm software, which is custom built for organic farms. MyFarm provides certification recordkeeping, allows farmers to build organic farm plans, provides traceability from planting to delivery of harvested grains, and other capabilities. MyFarm compiles the data in a way that makes it easy to share with organic certifiers. Essentials also includes organic farming training and best practices webinars. AgriSecure's "Premier" program provides all the Essentials services and adds one-on-one advisory support in all areas of organic production from an AgriSecure account executive. AgriSecure also offers organic grain marketing services to help its clients understand what's happening in the organic grain market and identify opportunities that are good for them.
One-on-one support is vital. "The farmers can benefit from someone working with them to understand where they are on their organic journey and to help fill in the gaps and to be a thought partner for them," Sinkula says.
In this challenging time of the COVID-19 pandemic, Sinkula says farmers also appreciate being able to connect with AgriSecure representatives on Zoom meetings.
"It's something our clients and members have come to appreciate more. There's no commitment to have a meeting on the farm, and it's flexible for them."
As AgriSecure grows they are building a network of organic farmers and a body of knowledge about organic farming that all members of the network can access and benefit from.
"Hopefully, we leverage that to help the entire group and identify opportunities where we can come in and provide that support," Sinkula says.
Sinkula and the team at AgriSecure are excited about the future of organics and helping farmers maximize the opportunities in organic agriculture.
"One of the things that's really exciting about organic for our team and for many farmers in our network is that there is still so much opportunity to learn, to improve, and to innovate," he says.