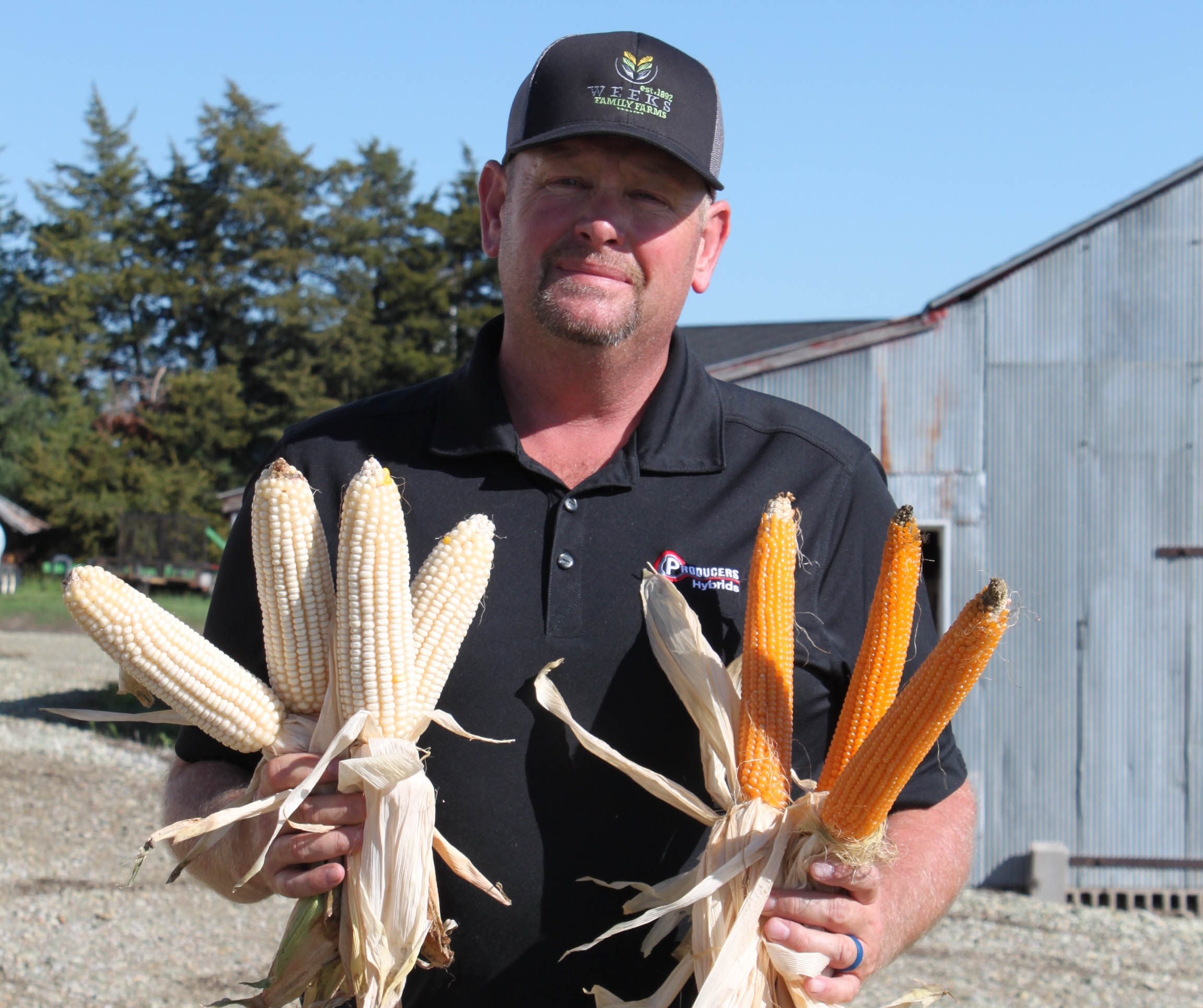 Nebraska conventional farmer sees opportunities with organic
Published: December 27, 2016
Seeking more farm income led Ryan Weeks to add organic to the mix.
"As farmers, we need to figure out what the end user wants, whether it is an ethanol plant, a food ingredient company or the consumer," says Nebraska farmer Ryan Weeks. "We need to listen, understand and then try to provide it."
With this in mind, Weeks has been transitioning 240 acres of their family farm to organic production, amidst his GMO corn and soybeans, non-GMO white corn, non-GMO soybeans and popcorn. He knows niche markets aren't going to make him rich. However, he notes, "An extra 40¢ per bushel can make a big difference."
Like most crop producers, Ryan Weeks isn't happy with commodity corn and soybean prices. But unlike many farmers, he and his wife Kristi Fjell Weeks are listening to this low-price market message to change their crop mix.
While the central Nebraska farmers raise their share of genetically-engineered corn and soybeans, they also produce non-GMO white corn, non-GMO soybeans and popcorn. By 2018, they'll be ready to market their new crop, organic popcorn.
Choose organic land carefully
For Weeks Family Farms, it is a matter of diversity. The 240 acres they are transitioning to organic will give them options, including potential premiums once the land has been certified organic. In the meantime, he continues to farm most acres conventionally.
Weeks acknowledges that switching even a portion of the farm to organic is not easy. In addition to learning which crop protection products were approved, he picked land that could be tilled sustainably, as he places a high priority on water and soil stewardship. He also has access to cattle manure and poultry litter.
"The transition involves a steep learning curve; however, I have friends I can lean on for advice," he says. "I was skeptical about my ability to control weeds, but we've had phenomenal control."
He picked soils that warmed early so germinating weed seeds could be rotary hoed to reduce eventual weed pressure. Weeks planted late to avoid pollination from neighboring crops and relied on the rotary hoe and cultivation to control his weeds until crop canopy. He admits that he benefited from his own and neighboring GMO corn to reduce insect pressure.
Change crop perspectives
Weeks is all too aware that conventional and organic farmers tend to see each other as "wrong" or threatening. He thinks that is unfortunate. "I have friends who think I'm crazy and some I hesitate to tell," he says. "To me organic and nonorganic are both production systems, and both are okay. I have three children and hope to give them the opportunity to farm. If this helps, I'll try it."
Reprinted with permission of Corn+Soybean Digest