Swiss agronomist turns monoculture into organic farming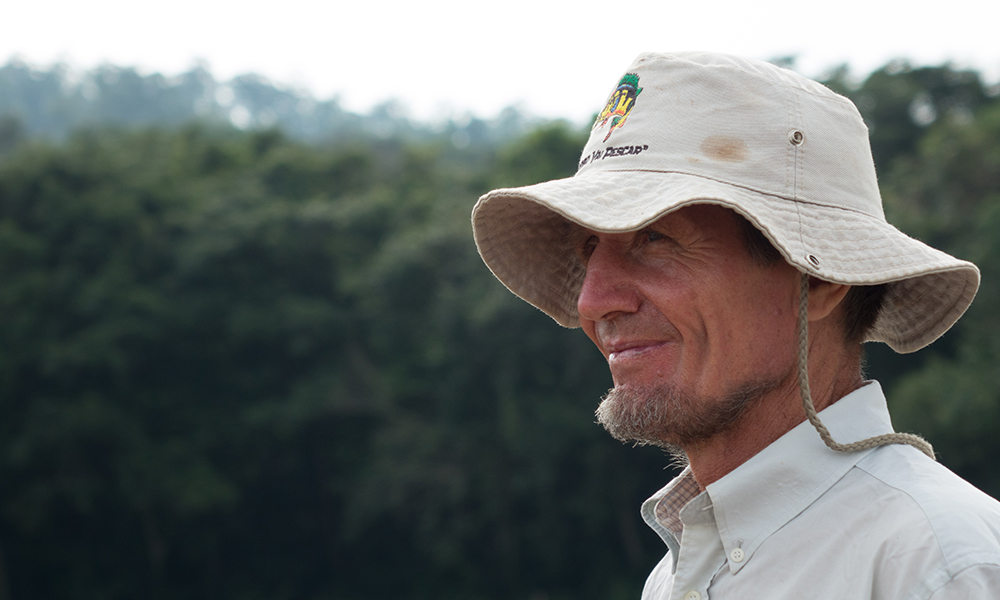 Published: October 2, 2023
Category: Organic News
In the depleted lands of Brazil, Swiss agronomist Ernst Götsch found fertile soil to imagine and test transformative agricultural techniques. His approach, called syntropy, is rapidly being adopted across the South American nation and provides a glimpse to the future of agriculture. For his many followers, the Swiss expatriate has become an icon.
By Mirela Tavares and Balz Rigendinger
How does this sound? Utopian? Well, keep reading.
Imagine the environment is a cooperative and interactive structure where every single being plays a specific role and thus contributes to ensuring that the living space regularly renews itself. There is sufficient food and living space for everyone.
Let's say goodbye to a mentality based on exploitation and competition. Let's forget the traditional models of cultivation, production and land use.
Syntropic agriculture is when cultivation becomes a natural part of a constantly regenerating ecosystem. This is the brainchild of Ernst Götsch, the Swiss agronomist who is transforming traditional agriculture into organic farming in Brazil.
Syntropic agriculture
Born in 1948, the son of a farmer from canton Thurgau emigrated to South America in 1982. Götsch started his career as an agricultural sciences researcher at the federal technology institute ETH Zurich. After he moved to Brazil, he took over an abandoned cocoa farm in Bahia in the northeast of the country. The soil was deemed degraded beyond hope and the earth was burnt. It was basically worthless.
But Götsch managed to make the Olhos D'Agua farm flourish again.
He had entered a bet that his system would work and in return was given the 120-hectare farm.
After only five years, he succeeded in creating a level of biodiversity at Olhos D'Agua comparable to an untouched rainforest. His farm produced as much cocoa as other farms in the neighborhood. Such work has brought Götsch widespread respect and attention in Brazil.
Guru solving global problems
Some consider him a revolutionary and look up to him like a guru. He turns wasteland into arable land and savannahs into forests that produce mist, which in turn triggers rainfall. He transforms sick, fragile crops into resilient plantations which can withstand extreme weather. The many young followers of syntropic agriculture are now spreading the seeds of Götsch's concept in training sessions, on social networks and on reality TV.
One of the reasons why Götsch's concept stirs so much attention is because he has found a solution to global problems that are becoming increasingly urgent: climate change, soil erosion, species extinction and deforestation. A holistic solution to this cluster of hope-crushing, huge problems is more than welcome in Brazil.
"Each being in its niche fulfills its function with interspecific and intraspecific relations which are based on cooperation," says Götsch describing his system.  Fungi, bacteria, plants, animals help each other, need each other and benefit from each other while humans watch and assist them.
Goodbye monoculture
Over the past few years, numerous farmers have adopted syntropic agriculture and said goodbye to monocultures which, once they reach a certain intensity, require more and more fertilizer, herbicides, fungicides and pesticides until the soil or the vegetation—and ultimately both—become wasteland where nothing grows.
More recently, large-scale Brazilian farmers have also shown interest in Götsch's cultivation method for economic reasons. Once their land is depleted, pests, weeds and bad harvests generate massive losses.
Götsch is now faced with a new challenge. "How can such large mixed cultures be machined, and which machines are needed?" he wonders. Questions keep him going at the age of 75.
The impact of Götsch's work has been the subject of an academic thesis. In the 25 years between 1993 and 2018, Götsch's courses, workshop and conferences motivated more than 4,000 farmers, around 3,500 families and almost 2,000 others to adopt his method. His followers, the thesis found, are not only in Brazil but also in Portugal, Spain, Hawaii and Surinam.
The numbers in the thesis are outdated. Götsch thinks that he has converted more than 10,000 farmers so far.
Journalist Dayana Andrade has followed Götsch's work since 2007 and has spread his teachings all the way to Europe. When she and her husband first left Brazil, they moved to Portugal. "We now live in the Salento region in Italy where we have cultivated nine hectares of land with different kinds of syntropic systems," she says. Andrade regularly posts about it on Instagram.
Spreading the message
Andrade and her husband Felipe have also used television to spread the message to the people. The TV soap operas Velho Chico (Old River, 2016) and Pantanal (Marshland, 2022) are extremely popular in Brazil. The couple is currently in an advisory role to a remake production of Renascer (Rebirth) which is due to start in 2024.
"We take any opportunity to tell people about the trends in the environment and sustainability," says Andrade. "Ernst Götsch is our best reference in this." Thanks to her, Götsch's agricultural model has been documented on Globo, the leading provider of reality television formats in Brazil. The channel is watched by around 183 million people.
Another fan of Götsch's work is Antonio Gomides. He spreads Götsch's teachings on his social networks such as Instagram and Youtube, where he reaches almost 200,000 followers. Gomides comes from a touring theatre family and has been travelling throughout Brazil for many years. He has now dedicated himself to spreading Götsch's philosophy and offers courses for people interested in agroforestry.
"I heard about Ernst for the first time in Brasilia where he presented his work," says Gomides. "I lived with him for a month." The encounter with the Swiss expatriate proved a turning point. Gomides was impressed by how Götsch's new approach to the land had actually transformed the environment.
"I realized that I was standing in front of the work of a genius. It was the same feeling I had when I visited the Louvre and saw these works of art," Gomides says enthusiastically. He considers Götsch's work as a "great legacy for humanity" which must be made known in Brazil and all over the world.
Götsch: farmer and philosopher
What does Götsch think of all this? "That's why I work," he told SWI swissinfo.ch. "Everyone plays a role. I do everything I can in my profession as a farmer, but I actually also work on the philosophy," he says. "When you ask me what I am, my answer is: I am a farmer and a philosopher." He is convinced that humans can learn a lot when they examine the ecosystem of plants and animals.
The principle of syntropic agriculture imitates and accelerates the natural processes of plant development and soil regeneration. Götsch relies on mixed cultures in which plants strengthen and support each other. Mulch—an organic material that rots on the soil and adds nutrients through land composting—also plays a significant role in this.
Another quirk is that Götsch does not remove weeds because he believes the whole system can benefit from its strength. And he uses pests as an indicator for an imbalance in the system. This is how he achieves such a high level of biodiversity that regulates itself.
But Götsch wants to go even further. He is increasingly interested in the way people treat themselves and others in social relationships. "We don't have to save the planet," he says. "But we should think about how we can save ourselves."
Reprinted with permission of SWI swissinfo.ch, originally published on July 27, 2023
To view original article, visit:
https://www.swissinfo.ch/eng/sci-tech/swiss-agronomist-turns-monoculture-into-organic-farming/48689864
Organic & Non-GMO Insights October 2023