Secret Ingredients: Recovering health through choosing the right foods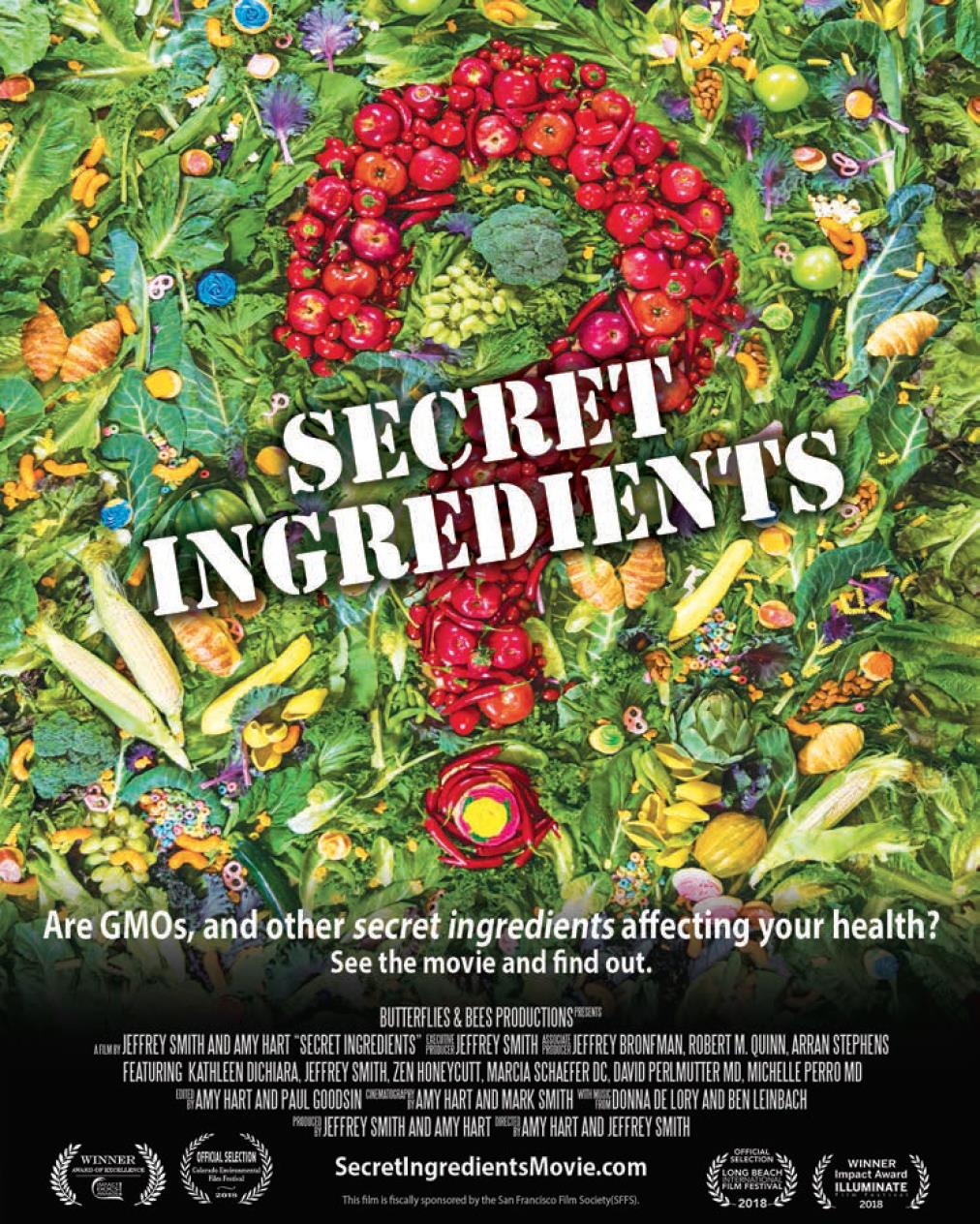 By Arianne Pfoutz
Published: December 6, 2018
Category: The Non-GMO Blog
This film presents some startling information about the consequences of ingesting GMOs and pesticides—and conveys its message via numerous health professionals, and most poignantly, through personal stories of recovery from serious conditions. In less than 90 minutes, you come away highly educated on the subject of GMOs and the herbicide glyphosate, inspired to take charge of your wellness—starting in that important laboratory, our kitchens.
Jeffrey Smith, expert on health and GMOs, created this film with Amy Hart. Its "leading lady," Kathleen DiChiara, carries us through the film with her own story and hard-earned nutritional information—which paralysis, and 21 chronic diseases experienced simultaneously in her family, drove her to acquire.
DiChiara was a triathlete and corporate executive when she lost her leg movement and was left paralyzed from surgery—along with fibromyalgia, IBS, and constant pain. Near the same time, her 4-year old son was diagnosed with autism—followed by the second son having asthma and severe bloating, and the third widespread rashes and allergies. Her husband, in excellent shape, developed a benign breast tumor. This family ate well and was health-conscious, yet collectively suffered from 21 chronic diseases.
Kathleen eliminated GMOs and all traces of glyphosate (the ingredient in Roundup, sprayed on many foods) and included organic foods in every meal. Within 2-3 weeks, significant improvement occurred for all—and by 6 months, there was no chronic disease. "When we changed our food, the different therapies began to work, then we didn't need them anymore," she said. "We ate the same foods, just used different ingredients."
One pediatrician tells of remarkable changes in patients who switched to eating all organic food, and removing GMOs. Two women suffering from infertility and multiple miscarriages made the switch and had healthy babies. Zen Honeycutt, founder of Moms Across America, told of her son's sudden autistic tendencies related to shockingly high levels of glyphosate—his gut and autism symptoms (and glyphosate level!) disappeared with GMO-free, organic foods.
Secret Ingredients uses attractive graphic aids for teaching about GMOs, glyphosate's rise to prominence, the importance of gut bacteria, and how so many chronic diseases—including obesity, fatigue, allergies and digestive problems—have spiked since glyphosate emerged in the 1990s. Glyphosate compromises our gut bacteria as well as the mitochondria providing brain energy, a factor in MS, Alzheimer's, Parkinson's, Autism, and more. Monsanto's lies and cover-ups are outlined—"Why is a chemical company in charge of our food?" asks one father. The takeaway? Eat foods certified both USDA Organic and also Non-GMO Project Verified, when possible.
The viewer is shown how fast recovery can come with dietary changes—as the "burden on the body" of foreign ingredients is lifted, the body can heal itself. But the beauty and impact of the film lie in the intrinsic emotional power of these stories—heartbreaking situations involving scary symptoms, dreadful diagnoses, helplessness over finding solutions—that millions of us are experiencing. You emerge empowered, ready to transform your life with the right ingredients.
For more information about Secret Ingredients, visit https://secretingredientsmovie.com/.