Ronnie Cummins, 1946-2023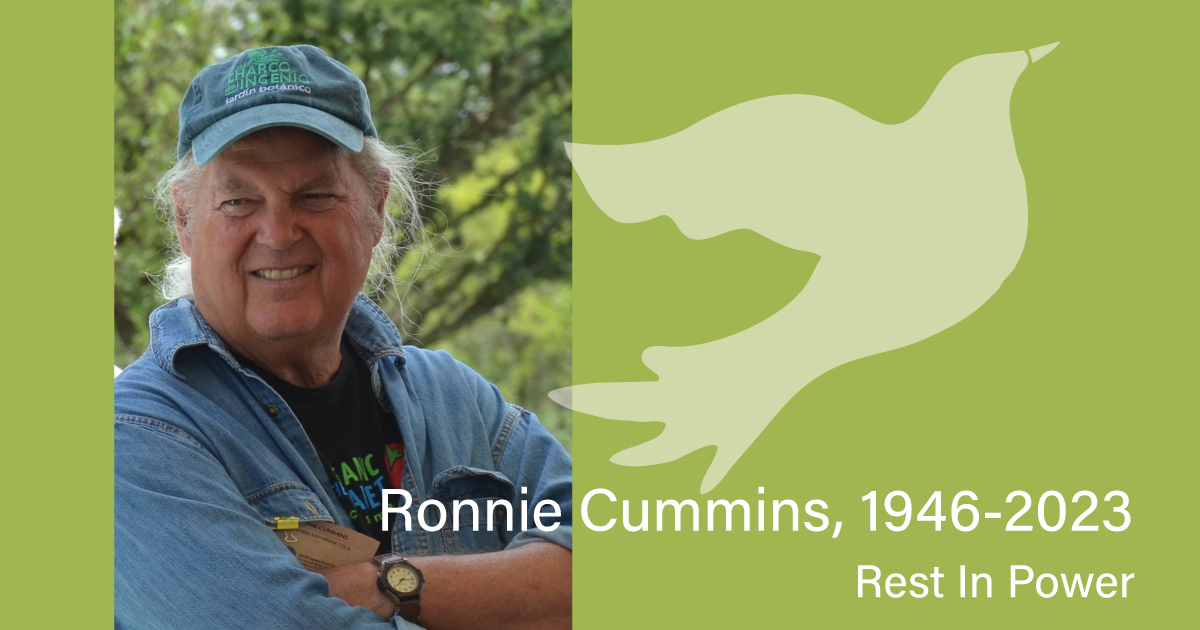 Published: May 27, 2023
Category: Organic News
Ronnie Cummins, a powerful advocate for regenerative organic agriculture and food production, passed away in Mexico on April 26, 2023 to recently diagnosed bone and lymph cancer.
Cummins was the Co-founder and International Director of the Organic Consumers Association, (OCA) and its international affiliates, Regeneration International and Vía Orgánica.
Ronnie was a leading figure in the global organic regenerative food and farming movement. His enthusiastic organizing skills were infused with passion, warmth, courage and tenacity. He was tireless in his work for justice and peace.
He never gave up his passion for investigating the dangers of industrial food systems, genetic engineering, and synthetic food technologies. He fought against the greed of the pharmaceutical, chemical, and pesticide industries; he was also earnest and optimistic in the search for climate solutions.
He had a passion for educating young people, and headed up the creation of Vía Orgánica, an agroecology farm school and research center in Central Mexico. The last few years he dedicated endless time, energy, and research to Vía Orgánica and Regeneration International's Billion Agave Project; he firmly believed this could be game-changing as a way to regenerate the land, make a major impact on carbon sequestration AND the climate crisis, and to ease rural poverty and the heartbreaking forced migration of so many small farmers around the world.
Ronnie has survived by the love of his life, Rose Welch, and son, Adrian Cummins Welch, as well as many people he cherished, siblings, in-laws, many nieces and nephews, close friends, and work family.
Ken Roseboro, editor of The Organic & Non-GMO Report, shared his perspective of Ronnie and his impact:
"Ronnie was a tremendous advocate for organic and regenerative agriculture and food and fought tirelessly against the dangers of industrial agriculture, particularly pesticides and genetically engineered foods. I had the pleasure of getting to know Ronnie, and he was a long-time supporter of our publication, The Organic & Non-GMO Report, and he often reposted our articles in the Organic Consumers Association's newsletter.
"Once in a while we disagreed about different topics but I always appreciated his commitment to organic and non-GMO foods and he did the same with me. He always ended his emails with 'In solidarity,' which I always appreciated."
Organic & Non-GMO Insights June 2023