Plant Based World Expo connects buyers with sellers of innovative plant-based products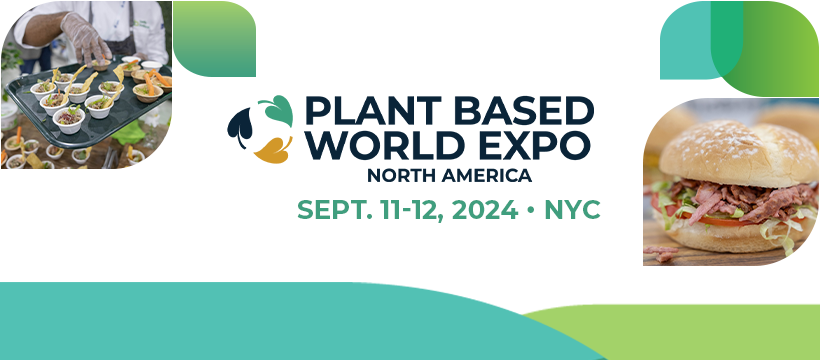 Published: October 2, 2023
Category: Market News
Over 3,000 people and over 200 companies attended the recent Plant Based World Expo North America (PBW) in New York, sampling innovative plant-based products, networking, and hearing latest developments in the industry.
Exhibitors are signing up for next year's event from countries including Italy, Denmark, Brazil, Thailand, Spain, and more. Presentations at this year's expo included:
Plant based snacks and prepared foods using sustainable ingredients like hemp, jackfruit, acai, algae, and seaweed.
Chef-crafted products including plant-based cheese with truffles from Italy, plant-based croissants from France, and organic certified and vegan Dutch stroopwafels.
Training opportunities between food service institutions, chefs, and product manufacturers.
Mushroom-based meats, snacks, and jerky from MyForest Foods, Green Wolf Foods, and Myco Technology.
Plant based seafood products from companies such as BeLeaf, Jinka, and Mind Blown Seafood.
Exhibitor Henrik Lund, CEO of Naturli` Foods admired the quality of the decision-makers and stakeholders present. He also "loved the Hosted Buyer Lounge, where PBW arranged meetings with the exhibitors and buyers."
The Food Export International Buyers Mission facilitated 400 meetings between 40 key buyers and over 100 exhibitors. "I walked away with a good, solid list of brands to seriously consider," said Fedele Stella with Fairway Market. Chris Chagnon of Hannaford Supermarkets was "impressed with the innovation and variety of products on the Expo floor."
Next year's event will be held September 11-12, 2024. Learn more about exhibiting at the 2024 Plant Based World Expo here.
Organic & Non-GMO Insights October 2023