Perennial rice takes root in China, could transform farming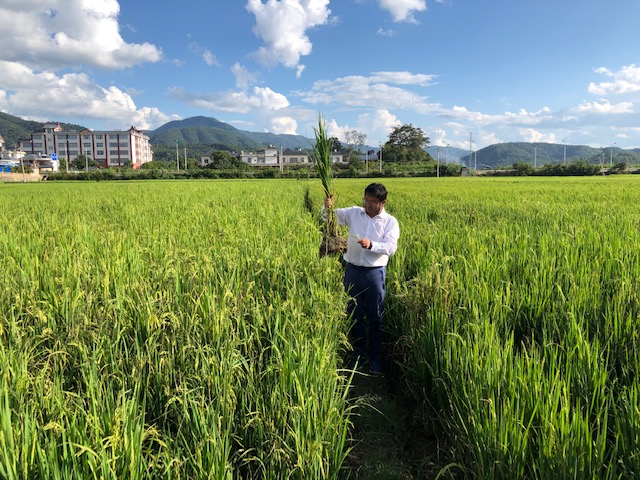 Published: December 9, 2022
Category: Regenerative Agriculture, The Non-GMO Blog
Thousands of farmers in China are growing a new rice variety that grows and is harvested over several years. The perennial rice grows each year from long-lived roots in the soil and promises labor- and money-saving benefits to farmers.
The rice was developed by researchers at Yunnan University in Kunming, China who worked for more than 20 years to create the rice. Their successful breeding work is described in an article in the journal Nature Sustainability. The researchers say their perennial rice requires much less labor, thus reducing a farmer's cost while producing the same yields as annual rice. The rice's long-lived roots may also produce environmental benefits though the researchers have not yet not documented that.
Erik Sacks, a plant geneticist at the University of Illinois who collaborated with the Chinese scientists and co-authored the new study told NPR that the success of the perennial rice is a "really big deal This is a change in the way we think about agriculture."
Perennial rice could be a big deal because rice feeds 4 billion people and is the grain most consumed around the world.
The number of farmers growing the perennial rice continues to increase. In 2020, it was grown on about 9000 acres on 11,000 smallholder farms. In 2021, that number grew to 44,752 smallholder farmers growing it on 38,000 acres in southern China. Production of the rice is now spreading to Southeast Asia and Africa.
The perennial rice gives researchers such as Sacks hope that it's possible to create perennial varieties of major food crops such as corn, wheat, and rice.
In the United States, a growing number of farmers in Minnesota, Iowa, and Kansas are growing Kernza, a perennial intermediate wheatgrass. The grain is being processed into food and beverages made by Cascadian Farm and Patagonia.
Kernza was developed by the Land Institute, which is spearheading efforts to breed perennial crops. The organization also provided financial support for perennial rice at Yunnan University.
A large Chinese company, BGI Genomics, is investing in the perennial rice and announced field trials of it in Uganda, working with the country's Academy of Agricultural Sciences.
Source: National Public Radio
To view source article, visit:
https://www.npr.org/sections/goatsandsoda/2022/11/07/1134796649/could-this-cheaper-more-climate-friendly-perennial-rice-transform-farming
Organic & Non-GMO Insights December 2022