Organic food sales topped $60 billion in 2022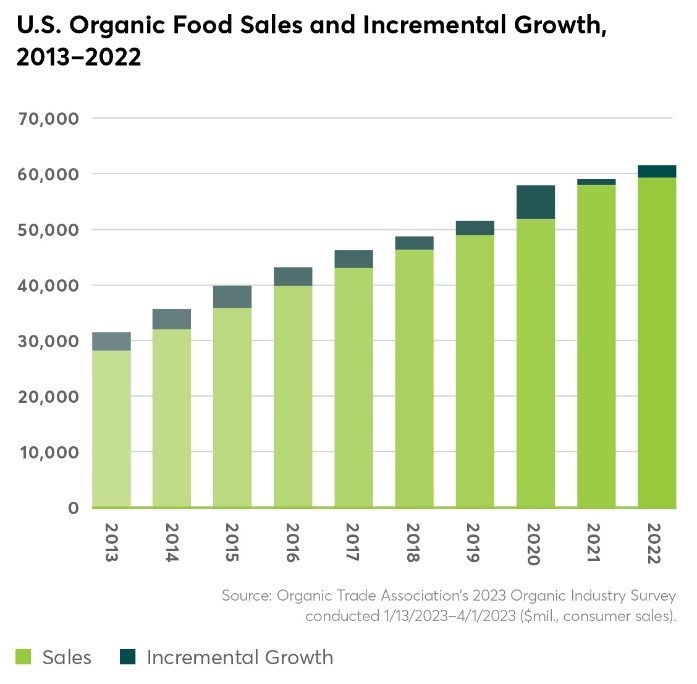 Published: May 27, 2023
Category: Market News

Organic sales grew by 4% despite inflation challenges
Organic food sales in the United States in 2022 broke through $60 billion for the first time, hitting another high-level mark for the resilient organic sector. Total organic sales—including organic non-food products—were a record $67.6 billion, according to the 2023 Organic Industry Survey released in May by the Organic Trade Association.
The organic market grew despite challenging headwinds: inflation pressures tightening consumer wallets, supply chain disruptions caused by the pandemic and global political events, a proliferation of competing food labels in the grocery aisles, and a labor shortage felt acutely by organic producers. Inflation heated up costs across the organic supply chain—indeed, the entire food supply chain—and boosted prices in the grocery aisles. As a result, the organic sector reflected the overall food sector, with the value of organic sales rising even as the growth in the volume of sales for some categories slipped.
The sector's four-percent growth in sales value was nearly twice the pace of growth in 2021. Organic food sales totaled $61.7 billion, while the value of organic non-food sales hit nearly $6 billion. Certified Organic now accounts for 6% of total food sales in the United States.
"Organic has proven it can withstand short-term economic storms. Despite the fluctuation of any given moment, Americans are still investing in their personal health, and, with increasing interest, in the environment, and organic is the answer," said Organic Trade Association CEO Tom Chapman. "Organic's fundamental values remain strong, and consumers have demonstrated they will come back time and again because the organic system is verified, and better for people, the planet, and the economy."
Produce still leads organic
Organic produce, often the entry point for new organic buyers, easily held its position as the top seller of all organic categories. Sales of organic produce totaled $22 billion, accounting for 15% of all fruit and vegetable sales in this country.
Organic beverages were the second best-selling organic category, reporting $9 billion in sales in 2022, up 4%. Organic coffee maintained its position as the biggest-selling organic beverage, up almost 7% from the year before, with close to $2.3 billion in sales. Organic soft drinks and enhanced drinks broke through $500 million in sales at $503 million and saw robust growth of almost 14%.
"Organic beverages continue to climb. They're an area where shoppers are willing to experiment and are less price sensitive," noted Angela Jagiello, Director of Education and Insights for OTA and coordinator of the annual survey. "Soft and enhanced drinks had a great year, with the non-alcoholic trend being a big contributing factor. Many younger shoppers are reducing or eliminating alcohol, and these organic beverages are a celebratory and sophisticated alternative."
The third highest-selling organic category was dairy and eggs at $7.9 billion, up over 7% from the previous year. Organic dairy and eggs now constitute close to 8% of the total dairy and egg market. Continued demand and inflationary price increases helped boost the dollar sales in that category; yogurt and eggs both saw double-digit growth, with organic yogurt sales jumping by over 12% to $1.5 billion, and organic egg sales by 11% to around $1.2 billion.
While the growth pace of organic sales has predictably slowed from the barnburner rates during the pandemic, a wide and diverse smattering of organic products showed outstanding growth as consumers bring organic more fully into their lives. To name a few: organic baby food and formula sales up almost 13% to $1.4 billion; sales of organic rice, grains and potato products up over 10% to $387 million; organic dip sales up a big 18% to $194 million; and sales of organic pork up more than 10% to $63 million.
In the organic non-food category, sales of organic linens and clothing accounted for some 40% of sales, recording $2.4 billion in sales for a gain of 2.5%. Organic supplement sales held steady with sales of around $2 billion, while organic personal care products rose over 5% to $1.2 billion.
In the last ten years, organic sales have more than doubled as Americans are eating and using more organic products than ever before.
Organic & Non-GMO Insights June 2023