Millet for the Midwest: drought-resistant grain could ease climate challenge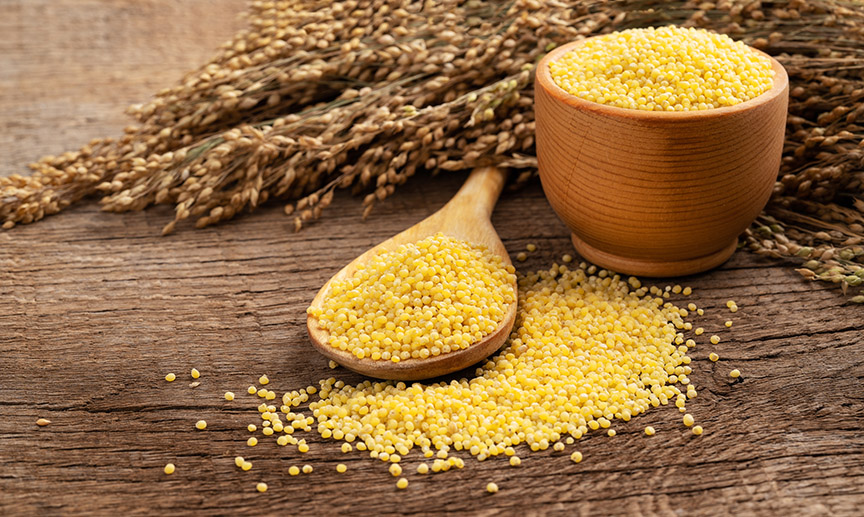 Published: July 31, 2023
Category: Regenerative Agriculture
Though not a popular grain in the U.S.—it's mostly grown in Africa and Asia—ancient millet varieties could offer significant benefits to alleviate climate impacts. A drought-resistant crop requiring less water, varieties including Japanese millet, pearl millet, foxtail millet, and proso millet can serve as cover crops and a versatile rotation crop. Millets are more resistant to pests and diseases, and don't require different machinery from soybeans or corn.
"It's not as high yielding, but it also has lower inputs on it," said Linus Rothermich, who has grown Japanese millet in central Missouri since 1993.
The United Nations declared 2023 as the International Year of Millets—and farmers growing it want to see more research funding and government protection. Oklahoma farmer Matt Little had good success growing proso millet last year. "I've never seen a crop that stood the heat and… drought and still made me money," he said.
The University of Missouri's Center for Regenerative Agriculture has found that proso and pearl millets would do well in dry states like Nebraska, Kansas, Oklahoma, and Texas; others would thrive in wetter, flood-prone areas.
"If you spend an extra $1 million on corn research, you don't necessarily advance the state of corn science very much," said Rob Myers, the center's director, "but if you spent a million dollars on millet research, you might suddenly create a whole lot of new information that we didn't have before."
Source: KCUR, Harvest Public Media
To view source article, visit:
https://www.kcur.org/2023-05-17/millets-drought-climate-united-nations
Organic & Non-GMO Insights August 2023