Junked robot: Syn-bio company Perfect Day dumps consumer brand, including Brave Robot ice cream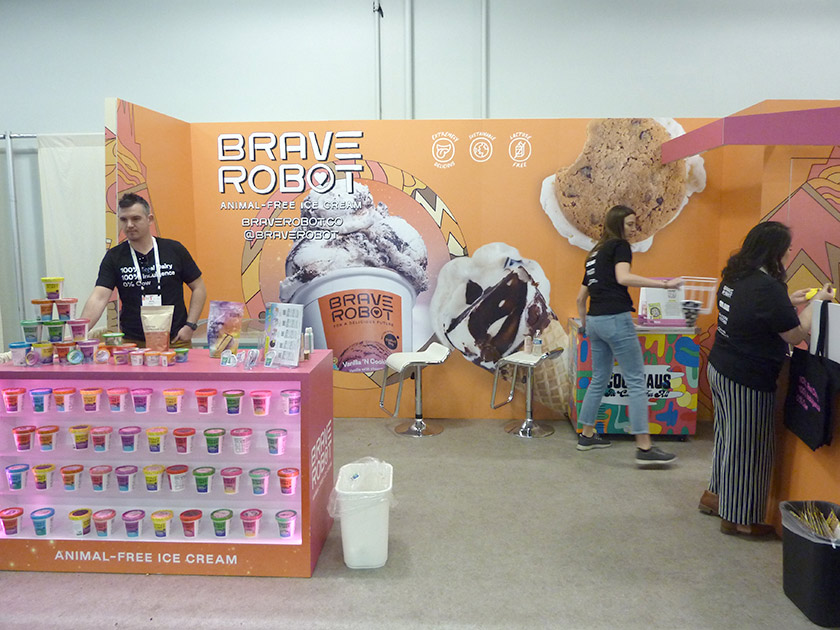 Published: July 31, 2023
Category: GMO News
By Ken Roseboro
Synthetic biology protein producer Perfect Day recently dumped its consumer facing business, The Urgent Company (TUC), and laid off about 15% of its workforce. The company said it made the moves to focus on its business-to-business ingredient sales and nth bio "consulting" precision fermentation business.
The TUC division comprised four brands: Modern Kitchen (cream cheese), Brave Robot (ice cream), California Performance Company (whey protein) and Coolhaus (ice cream and frozen novelties).
Perfect Day launched The Urgent Company to develop products using Perfect Day's synbio proteins. In a 2021 interview with TechCrunch, Perfect Day co-founder Perumal Gandhi said The Urgent Company was so named because: "You only get so much time on earth… and we wanted to do more… That's why it's called The Urgent Company… [because] let's hurry the fuck up, world."
TUC launched Brave Robot ice cream in 2021. The GMO ice cream was made using Perfect Day's synthetic biology proteins.
In a 2021 interview with FoodNavigator-USA, Gandhi bragged about Brave Robot: "Not many CPG (consumer packaged goods) companies can get a product from concept to launch in 16 weeks."
Brave Robot promoted its syn-bio created ice cream at Natural Products Expo West in 2022, a move that drew criticism from many members of the natural food community.
Apparently, consumers weren't so urgent to buy the product. Brave Robot will phase out its existing products.
Shortly after Brave Robot's launched, TUC also rolled out the Modern Kitchen line of cream cheese, which was also promoted at Expo West in 2022.
Coolhaus was acquired in 2021.
A Perfect Day spokesperson said the company explored the option of selling the consumer business but decided to stop devoting resources to the business. There may have also been investor pressure to close TUC.
Perfect Day laid off 122 employees in the U.S. and 12 in the U.K. and Asia.
Additional Source: NOSH
To view source article, visit:
https://www.nosh.com/news/2023/perfect-day-lays-off-15-of-workforce-shutters-consumer-biz-coolhaus

Organic & Non-GMO Insights August 2023