Jack's Solar Garden produces clean energy and nutritious food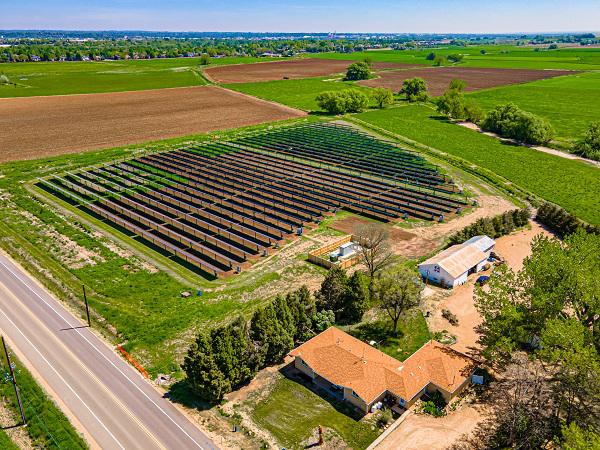 Published: December 9, 2022
Category: The Bright Side, The Non-GMO Blog
By Patrick Bosold
In Longmont, Boulder County, Colorado, there is a farm—Jack's Solar Garden—that has an array of over 3,200 solar panels generating 1.2 megawatts (MW) of community solar power. This is enough electricity to power over 300 homes. At the same time, the farm produces a wide range of vegetables, fruits, herbs, and livestock forage under and around the solar panels. This fresh, nutritious food is sold to retail outlets and other food providers in Longmont, Boulder, and Denver.
Agrivoltaics is the co-location of solar power and agricultural production. It is not a new idea, but it is just beginning to get traction in the U.S. with solar power developers, farmers and landowners who are interested in building solar power projects on productive farmland. Agrivoltaic practices have been employed in other parts of the world. The concept of agrivoltaics started in Japan, which now has more than 1,000 agrivoltaic installations. Germany and France are other leaders in the industry. India and China are starting to adopt the practice as well. The United States is just beginning to develop agrivoltaic practices.
Jack's Solar Garden is currently the largest commercially active research site for agrivoltaics in the U.S. The farm is regarded as a national model for governments, solar developers, and farmers who want to learn how to produce renewable energy while continuing agricultural production on fertile farmland. Jack's Solar Garden is supporting researchers from the National Renewable Energy Laboratory (NREL), Colorado State University (CSU), and the University of Arizona (UA) in the study of the microclimates created by the farm's solar panels and how the panels' shade impacts vegetation growth.
Most solar installations are developed with single seed turf or bare ground beneath the panels. In this scenario, the ground beneath the solar panels is managed by application of pesticides and occasional mowing. This type of vegetation management under solar panels can lead to decreased water retention, less soil stability, reduced carbon sequestration, and loss of habitat for pollinators, birds, and wildlife. Since the life of a regular solar panel can be 25 or more years, the solar developments installed in the early 2020s will likely occupy the land until the 2040s and 2050s. Therefore, the decisions made about what goes underneath a solar array will influence the soil and water health of hundreds of thousands of acres of land as solar energy rapidly expands in the U.S. and around the world.
Jack's Solar Garden has attracted many partners, including researchers who are studying how to grow crops underneath and around the farm's solar panels. One partner, Audubon Rockies, has established a large pollinator habitat around the farm's solar array. Sprout City Farms is cultivating crops under the farm's solar panels. And the Colorado Agrivoltaic Learning Center hosts local high schools, community members, and private groups at the farm to showcase the future of solar power generation and agriculture.
During a recent landowner seminar on the farm, one of the presenters described the business he's built by grazing sheep underneath solar arrays and then marketing his pasture-raised, high-quality lamb products directly to consumers through referrals and farmer's markets in the area. This is a robust, thriving business—the owner maintains a herd of 1000 sheep and markets them as a mowing and vegetation control service to solar array owners all over Colorado, in addition to what he makes in lamb product sales.
Another solar developer at the same landowner seminar offered participants samples of solar honey—honey produced by growing a range of honeybee-friendly perennials beneath solar panels, and then inviting beekeepers to graze their bees beneath the panels and harvest honey from the beekeepers' nearby beehives.
More information on agrivoltaics is available online at the Jack's Solar Garden website, www.jackssolargarden.com; the Colorado Agrivoltaic Learning Center at www.coagrivoltaic.org; and the National Center for Appropriate Technology's "AgriSolar Clearinghouse" at https://www.agrisolarclearinghouse.org.
Organic & Non-GMO Insights December 2022