Gene edited purple tomato hyped in the media while non-GMO purple tomatoes have been available for many years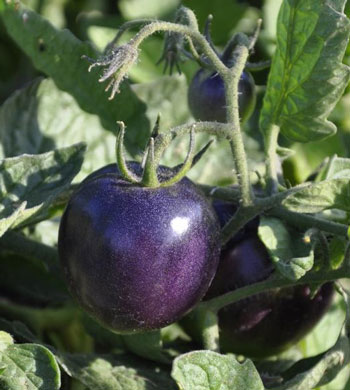 Published: October 4, 2022
Category: GMO News, The Non-GMO Blog
A new genetically modified tomato manufactured by Norfolk Plant Sciences is "unlikely to pose an increased plant pest risk compared to a conventional tomato," USDA's Animal and Plant Health Inspection Service (APHIS) reported in its first Regulatory Status Review of a GM plant under the SECURE rule. The deep purple tomatoes may thus be legally imported, moved interstate, or "released" into the environment without an APHIS permit. The tomato was gene edited to produce ten times the current level of anthocyanins, an antioxidant.
The USDA approval marks the U.S. as the first place in the world where the GMO purple tomato can be grown. The creators hope for UK approval soon.
While there is a lot of media hype about the GMO purple tomato, there have been more than 15 varieties of non-GMO purple tomatoes on the market for many years.
Sources: JDSUPRA; New Atlas, Home for the Harvest
To view source articles, visit:
https://www.jdsupra.com/legalnews/purple-tomato-is-first-genetically-2211693/
https://newatlas.com/health-wellbeing/genetically-modified-purple-tomato-approved-usda/
https://www.homefortheharvest.com/purple-tomatoes/
Organic & Non-GMO Insights October 2022