Farmers see promise in hybrid rye as regenerative solution to weed problems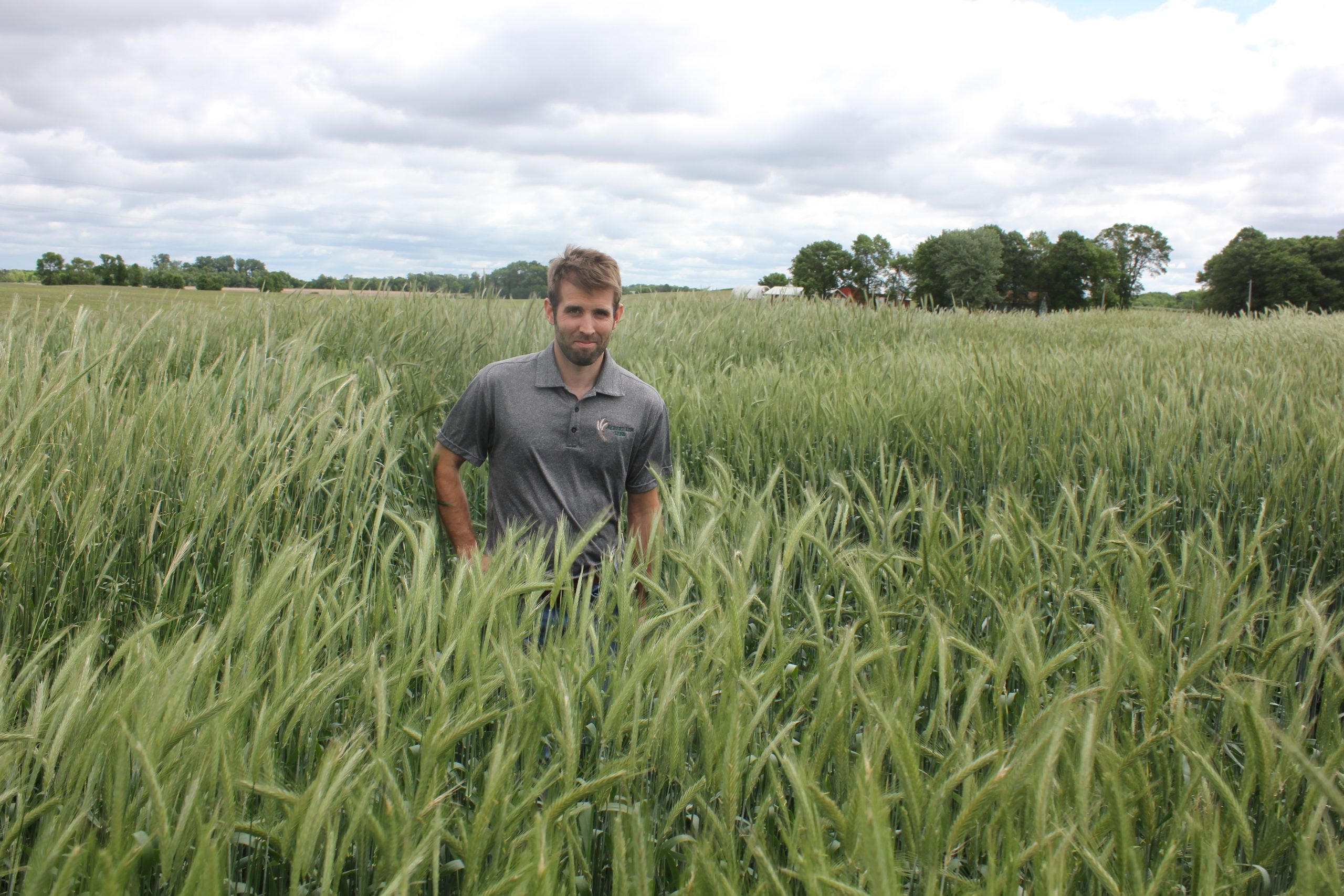 Published: October 7, 2021
Category: Regenerative Agriculture
Ragweed is wreaking havoc in corn fields in the Midwest. The giant weed, which Iowa organic farmer Tom Frantzen calls an "evolutionary monster," is resistant to glyphosate herbicide. Fortunately, farmers like Frantzen have a new solution that is helping them deal with ragweed—hybrid rye.
Ragweed hammered Frantzen's organic soybean crop, cutting yields in half in some cases, as well as his oats rotational crop.
Then in 2016, Frantzen received a call from Practical Farmers of Iowa, asking if he would be interested in experimenting with a new hybrid rye that was being introduced in the U.S. by KWS, a German seed company. The rye is a "winter annual," a crop that is planted in fall, survives the winter, and is harvested the following summer for grain and straw.
In his first year growing hybrid rye, Frantzen was pleasantly surprised to find no ragweed in his fields. He has been growing the crop since 2016, and ragweed's scourge on his farm is over.
The overuse of glyphosate/Roundup on U.S. farms has led to weeds, like ragweed, developing resistance to the weedkillers. This has led biotech/pesticide companies—in their never-ending quest for profits—to develop new genetically modified seeds that work with older, more toxic herbicides like dicamba and 2,4-D. As a result, the companies keep farmers on a pesticide treadmill even as weeds quickly develop resistance to the companies' weed "solutions."
Meanwhile, a growing number of farmers like Frantzen and others are using the ecological approach of hybrid rye to minimize weed problems.
According to KWS, as of 2021, 40,000 acres of the grain were grown in the U.S., which is still a tiny fraction of the 180 million acres of corn and soybeans planted this year.
Conventional farmers are also reaping the benefits of growing hybrid rye. Richard Magnusson, who farms 11,000 acres in northwestern Minnesota, started experimenting with hybrid rye in 2016, and this year he will harvest more than 900 acres. A dozen farmers in his region are now growing around 5,000 acres of the crop.
Mac Ehrhardt, owner of Albert Lea Seed, a Minnesota company that was one of the first to sell hybrid rye seed in the U.S., calls hybrid rye, "the most exciting thing we've ever launched" in his 30 years in the seed business.
Hybrid rye also helps farmers diversify their crop rotations. Research by Matt Liebman, an agronomist at Iowa State University, has found that diverse crop rotations with a small grain like hybrid rye can significantly reduce erosion as well as fertilizer pollution, while cutting fossil fuel usage.
The challenge is finding markets where farmers can sell the crop. In Europe, hybrid rye is used as livestock feed. Ehrhardt hopes a similar market can develop here. U.S. feed trials have found that hybrid rye can work as a good replacement for soy and corn-based feed rations. Frantzen and a handful of farmers in Iowa, Minnesota, South Dakota, and Canada are feeding hybrid rye to conventional and organic livestock.
Source: Civil Eats
To view source article, visit:
https://civileats.com/2021/08/10/hybrid-rye-is-helping-farmers-fight-superweeds-without-herbicide/
Organic & Non-GMO Insights October 2021