Environmental and farmer groups denounce approval of GMO "golden rice" in Philippines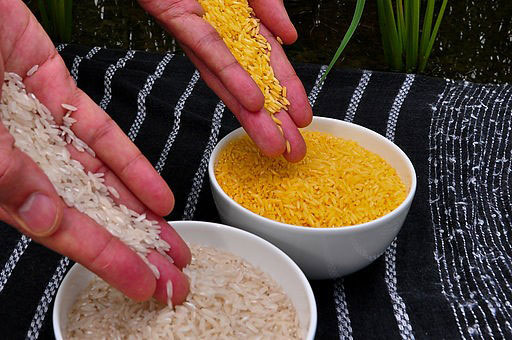 Published: August 5, 2021
Category: GMO News
The Philippines recently approved commercial production of the controversial genetically modified "golden rice," which is altered to produce higher levels of beta-carotene and aims to address the problem of childhood blindness.
Environmental and farmer advocacy groups denounced the approval of golden rice. Greenpeace Philippines called on Department of Agriculture (DA) Secretary William Dar to reverse the decision and represent the interests of Filipino farmers and consumers.
The group said the DA should prioritize strategies to diversify food production which ensure Filipinos' access to nutritious, healthy, balanced diets that also address problems such as malnutrition and Vitamin A deficiency.
The GMO rice variety was approved despite longtime opposition from Filipino farmers, scientists, consumers, health advocates, and environmental groups who have clamored for stricter regulatory systems for GM crops on the basis of the precautionary principle. The Philippines, through the DA's Bureau of Plant Industry (BPI), now becomes the first country to issue a commercial approval for the GM crop.
The GMO rice was also approved despite a lack of independent published data on the safety of the rice for human health and the environment. The U.S. Food and Drug Administration says that GMO golden rice doesn't contain enough beta-carotene to justify a health claim.
In 2019, farmer groups together with environmental and other civil society organizations, including Greenpeace Philippines, submitted formal appeals for the DA to revoke their earlier approval giving GR the greenlight for food, feed, and for processing. The groups cited: 1) the incomplete data submitted by the project proponents, and 2) the lack of transparency and adequate public participation throughout the approval process.
Farmer-scientist organization Magsasaka at Siyentipiko Para sa Pag-unlad ng Agrikultura (MASIPAG) also condemned the decision by the DA to approve golden rice and called on small farmers and consumers across the country to mount protest against the decision.
Further, Glenn Stone, professor of anthropology and environmental studies in Arts & Sciences at Washington University and Dominic Glover, a rice researcher at the Institute for Development Studies at the University of Sussex, have pointed out it is still unknown if the beta-carotene in GMO golden rice can even be converted to Vitamin A in the bodies of badly undernourished children In addition, research shows that what beta-carotene there is in the rice degrades rapidly in storage. Cooking further degrades the beta-carotene.
Sources: Greenpeace Philippines, GM Watch, MASIPAG
To view source articles, visit:
https://www.greenpeace.org/philippines/press/10702/golden-rice-commercialization-to-further-drag-down-filipino-farmers-amid-climate-covid-struggles/
https://www.gmwatch.org/en/news/latest-news/19851-philippines-approves-gmo-golden-rice-for-commercial-production
https://masipag.org/2021/07/defend-our-rice-farmer-scientist-group-condemns-golden-rice-commercial-propagation-calls-on-farmers-and-consumers-to-protest/
Organic & Non-GMO Insights August 2021