Demand for non-GMO soybeans is "staggering"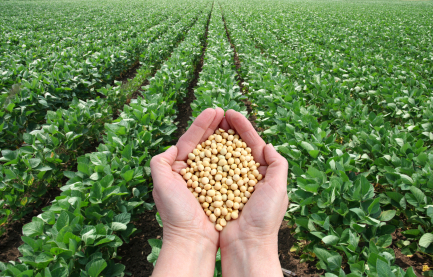 Published: October 8, 2021
Category: Non-GMO News
U.S. soybean exports may have a record-breaking year for 2021—not just for the China market, but representing a vigorous, diverse base responding to the demand.
"It won't be a record to any one particular country…something we take pride in is our diverse footprint of U.S. soy going out," said U.S. Soybean Export Council (USSEC) CEO Jim Sutter. USSEC and Specialty Soya and Grains Alliance (SSGA) co-hosted over 1,000 global customers and industry reps in August at the U.S. Soy Global Trade Exchange & Specialty Grains Conference.
Global demand for soy—the leading food and ag commodity in the U.S, at 60% export volume—is strong, despite an expected decline during the pandemic. Lower volumes have been accompanied by higher prices for U.S. growers. The demand is spurring new opportunities and increased prices—production volumes will follow, assured USSEC chairman Monte Peterson. The market is now being value-driven instead of price-driven, Sutter noted. U.S. soybeans are considered of higher value.
The industry has focused on developing sectors consuming soy, and it's paying dividends. The demand for non-GMO beans is "staggering," said Bob Sinner, SSGA chairman. Sinner hears weekly of offers he can't fill and is urging Chinese customers to contract their supply and demand.
A transportation challenge is impacting agricultural sectors worldwide—ocean containers haven't been able to ship on a regular basis. Markets such as Southeast Asia are especially dependent on timely delivery due to humidity factors.
Source: Farm Progress
To view source article, visit:
https://www.farmprogress.com/trade/soy-exports-pace-record-year
Organic & Non-GMO Insights October 2021