Dave Campbell of Lily Lake Organic Farm announced as 2022 Organic Farmer of the Year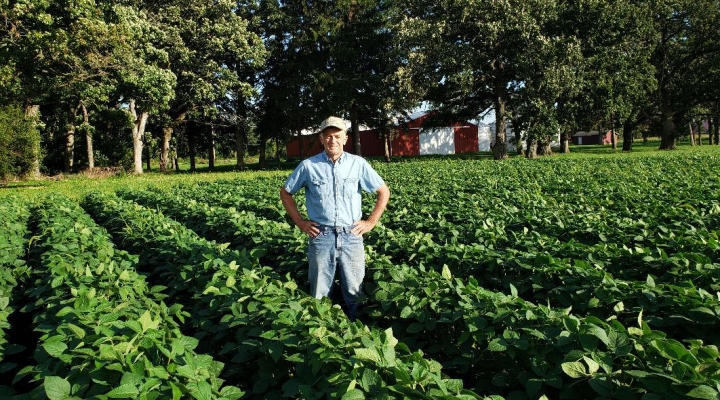 Published: March 29, 2022
Category: Organic News
This prestigious award recognizes one Midwest farmer/farm family each year for outstanding land management, innovative farming practices, and the outreach they do to teach others how organic farming works. Dave Campbell received the award at the Organic Farming Conference, Feb. 24-26 in La Crosse, Wisconsin, which is organized by the Midwest Organic & Sustainable Education Service (MOSES). It's the country's largest educational event focused on organic and sustainable farming.
Campbell is known and admired throughout the Midwest farming community for his work as an exceptional mentor and a vocal advocate for integrity in the organic movement. He has been a dedicated mentor through the MOSES Farmer-to-Farmer Mentorship Program since the beginning of the program in 2007. Former mentees describe Campbell as a "true teacher and a mentor at heart" who made himself available well beyond the end of the formal Mentorship Program to continue providing support.
Campbell began learning about organic farming from his father, who started farming organically in 1967. With his father's guidance, he began selling organic meat to a local health food store under a de-facto two-party organic certification. Campbell continued working on his father's organic farm throughout his school years and into college. After graduating with a teaching degree, Campbell decided to go into partnership with his father on the family's organic dairy farm in Illinois and later, in Wisconsin.
In 1988, Dave and his wife Mary returned to Illinois to start Lily Lake Organic Farm, on land that had been farmed by Mary's family since 1834. They immediately began transitioning the land to organic and by 1990 the entire farm was certified. Today, the 224-acre farm is rooted in Campbell's knowledge and experience growing small grains, row crops, and forages organically in northern Illinois and southern Wisconsin for the past 40 years.
At Lily Lake Organic Farm, Campbell has maintained a sharp focus on soil health, adding more cover crops and reducing tillage, especially in the spring. Two years ago, Campbell enrolled in the NRCS EQIP program, supporting more biodiversity and pollinator habitat areas on the farm.
When asked what inspires him to grow organically, Dave shares, "The challenge to produce nutrient dense organic crops with a very minimal amount of weeds inspires me.  I have found it to be very satisfying for the past 36 years, both in grain and hay/dairy operations, to be able to accomplish what naysayers said could not be done."
Organic & Non-GMO Insights April 2022