Celebrate Non-GMO Month in October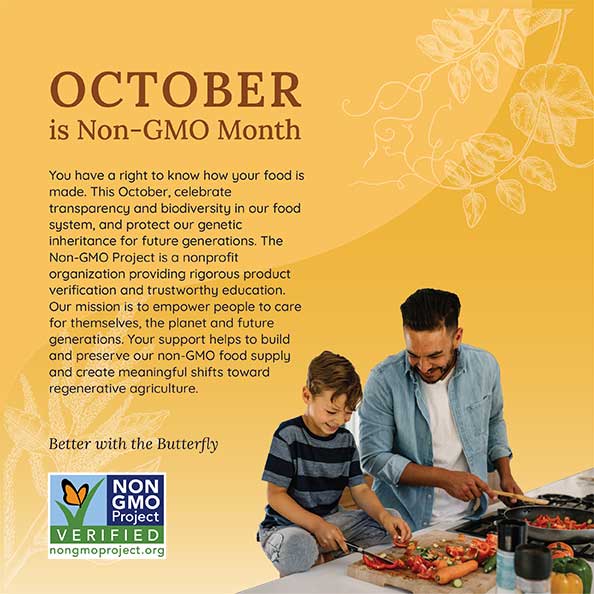 Published: October 2, 2023
Category: Non-GMO News
Food shoppers, retailers, and brands will celebrate the 14th annual Non-GMO Month in October. The annual event promotes awareness of genetically engineered foods, celebrates transparency and biodiversity in the food system, and aims to protect our genetic inheritance for future generations.
The Non-GMO Project, which provides food shoppers with non-GMO verified options, spearheads Non-GMO Month.
Several hundred food retailers participate in Non-GMO Month and will offer promotions and discounts on Non-GMO Project Verified food products while educating their customers about the risks of GMO foods. There are 60,000 Non-GMO Project Verified food products from 3,000 brands.
This year's Non-GMO Month will also feature the first ever Non-GMO Project Brand Summit. Learn about the connection between non-GMO and regenerative systems, network with industry peers, and win raffle prizes. This live event will cover:
The convergence of nutrient density and non-GMO
Fresh marketing insights from Linkage Research & SPINS
The state of biotech in natural foods
Non-GMO Project news & developments
Networking sessions
The summit will be held October 18, 2023 at 9:00 am Pacific Time.
For more information about the summit and Non-GMO Month, visit www.nongmoproject.org.
Organic & Non-GMO Insights October 2023