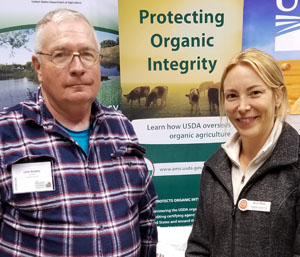 He didn't intend to become an organic detective, but today, John Bobbe spends time assiduously tracking down "fake organic" grain imports and trying to block shipments from hurting U.S. growers.
In April, a large freighter left Georgia, stopped at ports in Turkey, and headed for Morehead City, North Carolina where it unloaded a large amount of quite possibly fraudulent corn, passing as organic. No one will ever know, because the U.S. Department of Agriculture's National Organic Program (NOP) okayed the shipment, relying on paperwork that "checked out"—despite several shipments from Turkish companies, representing millions of pounds of "organic" corn or soy, having been rejected for fraudulent labeling or illegal sourcing.
NOP forbade an inspector to verify the grain, and ignored the EU's having de-accredited that grain producer's organic certification status. USDA subsequently de-accredited it as well, but two days after the grain was unloaded.
Betsy Rakola, USDA organic compliance director, said, "Traceability means anything that comes in with an organic certification can be sold as organic." The agency is overwhelmed by the rapid explosion of the global organic supply chain, and testing for genetic modification is "cost-prohibitive."
But money is motivating fraudulent imports—the largest offenders hail from Turkey and nearby Ukraine, Romania, Russia, and Georgia. The U.S. needs imports because of insufficient domestic organic acreage, and organic corn and soybean prices are often double conventional prices. Due to alluring profits, "Grain buyers aren't incentivized to seek the truth," said Anne Ross of Cornucopia Institute. "They are casual accessories to the fraud."
What's at stake are the integrity of the organic seal, loss of consumer confidence—and U.S. growers' livelihoods, as prices for organic go down.
Bobbe continues to monitor suspect shipments, alerting the USDA and pushing NOP to quicker action.
Source: Minneapolis Star Tribune
To view full article, visit:
http://www.startribune.com/organic-farmers-stalk-fradulent-imports/511952972/?fbclid=IwAR1G7Yf6IPkp7Iec8HxU-GZO8poIeNBncH1WRapYGZ2Aa7U1P8H3FFEjjfU