Some traditions are best left untouched. Millennials and health-conscious consumers are showing a strong preference for clean, non-GMO, minimally processed foods—the "kind your grandmother would recognize." It's hard to imagine any food fitting that bill better than a corn conventionally grown with traditional breeding, with minimal use of chemical inputs, harvested by hand, and stoneground using stone mills dating back 75 to 100 years.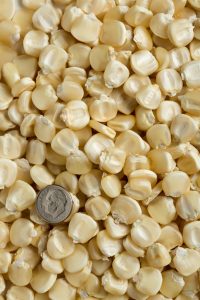 Two Southern companies are cranking out specialty corn grits, to the delight of individual customers on Amazon and VIP guests at fancy restaurants in the Four Seasons Hotel, Washington, D.C. and the dining room of the Biltmore Estate in Asheville, NC. With distinct business models, Palmetto Farms of Galivants Ferry, South Carolina and Barkleys Mill in the Appalachian Mountains of North Carolina are reaping the rewards of a culinary trend not likely to fade anytime soon.
Corn with a history
The Barkley family dates back as far as the heirloom corn they grow—ancestors faced off on opposing sides during the Civil War—and the Hickory King Dent corn seeds they plant came from 1870s Virginia. Jim Barkley returned to the Blue Ridge Mountains, a lifelong vacation spot, in 1986 to homestead on Southern Cross Farm. Growing corn for grits was a hobby; the off-white kernels produced robust texture and flavor—and Barkley saw a niche market for a family business.
A fourth generation miller handcrafted a millhouse on the property in 2012, patterned on 100-year old millhouses. Turn-of-the-century parts were retrieved: a 100-year-old waterwheel now powers the dual 1919 and 1923 Williams Stone Burr Gristmills. Water from the millpond powers the gristmill delivering corn from bins to grindstones—the same pond that irrigates the fields.
"We use only corn that we grow for our grits," said son-in-law Micah Stowe. "All our corn seed is open-pollinated, Hickory King Dent corn that can reach 16-feet tall—producing only a couple of ears each stalk, with only eight rows of kernels. The hand selection, harvesting and sorting of 50 bushels takes four people eight hours."
All corn and cover crops are non-GMO, and the Barkleys follow organic practices. Non-GMO corn was always a requirement, and in 2014, the company joined the Non-GMO Project. Micah said. "We sent the corn to Genetic ID in Iowa, who told us, 'This is the purest corn we've ever tested,'—it measured less than .01 percent GM," Micah said. "To our knowledge, we're the only grits to receive Non-GMO Project verification."
Barkley's Mill "Stoned Happy Grits" are gluten-free (NSF certified), pesticide and chemical-free, and Appalachian Grown. Barkley's has begun selling cornmeal, which was recently approved through NSF and the Non-GMO Project.
GMO contamination is not a problem, due to the surrounding mountains and the maturation of the corn variety—135 days—compared to the 90-day maturation of GM varieties.
The process of producing grits hasn't changed much over many years. An elevator distributes corn into cribs—the ears are shucked, hand-selected, and sent to the millhouse. Ears passing the test are shelled and ground with vertical stones to prevent overheating. The pieces are run through the bolter, which takes out the bigger flakes or chunks—mostly the skin of the kernels. "Unbolted" grits are available upon request. The freshly ground grits are then scooped by hand into plastic zip bags, put into cloth sacks, tied, chilled and stored at 0 degrees in the freezer.
Barkley's Mill sells to individuals and restaurants, including The Plaza in New York City and the Biltmore Estate restaurants.
Palmetto Farms
A little further south, in Galivants Ferry, South Carolina, fourth-generation farmers the Dormans continue a grit tradition beginning with James Graham's making grits for family and friends in 1934. Grandson David Dorman rolled out the Palmetto Farms brand in 2007; he made the switch to non-GMO corn in 2011. All product lines have been non-GMO since 2015.
"Our family has literally been grinding away for customers since the 1930s because we believe in providing the absolute best products, no matter how time consuming it is to make," David said. "They are natural, healthy, and delicious."

Palmetto Farms uses milling equipment from the 1930s and 1940s, and is designing a new mill for greater efficiency. Sons Devin and Andrew joined the team full-time in 2011 and 2014.
The farm grows only 35 acres of corn, mostly for specialty and test batches. "We use single source origin seed, based on the line from our grandfather," Devin said. "Most South Carolina growers are not able to produce food-grade non-GMO corn—aflatoxin is rampant here. We found a grower in Illinois who grows the majority of our supply."
Though not Non-GMO Project Verified, Palmetto Farms products carry a non-GMO label. "The certification is expensive, and we feel we didn't need to do it," Andrew said. "We do the same non-GMO practices and test each batch, using the standard threshold."
The leading seller of non-GMO old-fashioned stoneground grits on Amazon, Palmetto Farms' gross sales have risen from $40,000 in 2014 to close to $700,000 last year.
"Stone-grinding keeps the natural oils in the heart of the corn," Devin explained. "The only thing removed is the pericarp, the outer skin. The corn is cracked, then sifted, leaving the whole grain with its nutrition and flavor."
Palmetto's most popular products are the white grits; they also sell cheese grits, cornbread, yellow and mixed grits, cornmeal, and hushpuppy mix. All products are packaged on the farm, sewn into 100 percent cotton bags.
What's fueling the enthusiasm for old-fashioned Southern foods? "Lots of people are feeling the 'retro' trend," said Andrew. "Clean, more wholesome, whole-grain is in, along with Southern cuisine staples. VIP guests who tasted our white grits at the Four Seasons in D.C. are now demanding them in the Baltimore hotel."